Marketing God's Way
In the 1880s, Henry Crowell struggled to convert his Quaker Mill from serving oats only for horses, to a place that made breakfast cereal for people. Mr. Crowell, contrary to most business people of that time, took his business problem to the Lord.
Henry soon had a brilliant idea. He would package his oats into attractive cardboard boxes that would be put on shelves in the grocery stores, instead of selling his grains from insect infested barrels.
His God-inspired invention transformed not only his industry, but many other industries as well.
Psalm 9:10 says, "Those who know your name trust in you, for you, Lord, have never forsaken those who seek you."
A godly leader realizes the value in taking their business challenges to the Lord for His direction.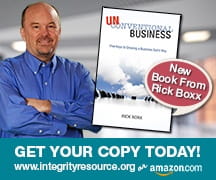 Learn more about Rick Boxx and Integrity Resource Center