Stanley Tam's Unconventional Road
It was 1955 and Stanley Tam, founder of US Plastics, was on an evangelistic outreach when Stanley felt God wanted more from him. Stanley soon realized that God wanted him to physically gift his entire business to God.
Stanley obediently gifted 100% of his US Plastics stock to a foundation to fund God's work. Stanley then was directed by God that they would need a bigger building since God was the owner.
The Tam's built a 5-acre facility in Lima, Ohio, with the words, "Christ is the Answer," boldly proclaimed on the front of the building.
Stanley takes seriously 1 Corinthians 10:31, "So whether you eat or drink or whatever you do, do it all for the glory of God."
How much are you willing to sacrifice if God asked?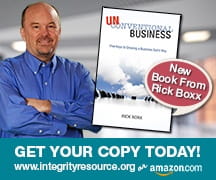 Learn more about Rick Boxx and Integrity Resource Center