Stock Market Gains
Years ago, Matt told me he wanted to make a year-end gift to Integrity Resource Center, but he needed to sell some stock first. I asked Matt if the stock had increased enough to be taxable.
When he replied, "Yes," I urged Matt not to sell the stock, but instead to donate it directly to the ministry. This strategy allowed Matt to get the full deduction for his charitable gift and saved him capital gain taxes!
Matt was so generous he chose to increase his gift by the amount of tax he saved.
Proverbs 11:25 says, "A generous person will prosper; whoever refreshes others will be refreshed."
Many people have gains in their stock portfolio this year. Consider donating the stock instead of cash and, refresh others even more.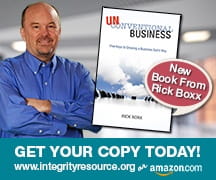 Learn more about Rick Boxx and Integrity Resource Center