Seeing the Genius in Others
By:Rick Boxx
April 8, 2016
At 24 years old, Liz Wiseman was surprisingly asked to develop Oracle University from scratch. Through that experience, Liz discovered four principles that can help people overcome what she calls the "Knowledge Trap."
Liz's final principle is to "See the Genius in Others." Everyone has experiences and knowledge that can add value to what we know personally.
The prophet Daniel was a young man that God blessed with wisdom. Even the wicked King Nebuchadnezzar was wise enough to see the "genius" before him.
In Daniel 1 we read, "In every matter of wisdom and understanding about which the king questioned them, he found them ten times better than all the magicians and enchanters in his whole kingdom."
What if God has placed a Daniel in your midst, but you've never discovered their genius?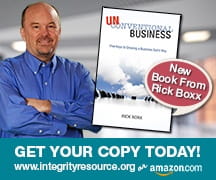 Learn more about Rick Boxx and Integrity Resource Center