A Fivefold Ministry Plan-Part I
By: Rick Boxx
April 6, 2015
Many businesses have a strategic plan, but few have ever developed a Ministry Plan. This week we will highlight five areas you might address in an organizational Ministry Plan. The first is "Evangelism."
Mike employs an evangelistic-minded team member, but according to Mike this person recently was too aggressive and offended a new employee.
Mike wants the culture of his business to reflect the Apostle Peter's thoughts in 1 Peter 3:15 when Peter wrote, "Always be prepared to give an answer to everyone who asks you to give the reason for the hope that you have. But do this with gentleness and respect."
Mike could address this issue with a Ministry Plan. If you want to adhere to Peter's directive, consider putting your views and desires on workplace evangelism in your Ministry Plan.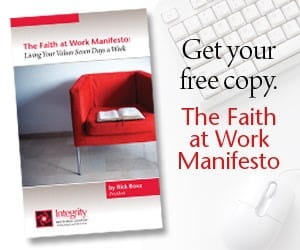 Learn more about Rick Boxx and Integrity Resource Center