An Encounter with God
On Good Friday, over 2000 years ago, Jesus had been convicted, beaten, mocked, and nailed to a cross. Some Roman Centurions participated in this horrific act, assuming Jesus was just another criminal.
But that changed after Jesus breathed his last breath. God had covered the land with darkness, unleashed an earthquake and many who had been dead came alive. This unique encounter with God had a profound impact on the Centurions.
In Matthew 27:54 we read, "Now the centurion, and those who were with him keeping guard over Jesus, when they saw the earthquake and the things that were happening, became very frightened and said, "Truly this was the Son of God!"
If you had an encounter with God in your workplace today how might it change you?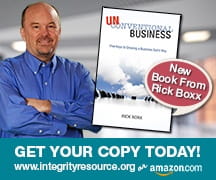 Learn more about Rick Boxx and Integrity Resource Center