Bearing Burdens of Others
My friend, Phillip, had an encounter with God that changed his life, but for years afterward, he still wrestled with the diagnosis of bi-polar and the pain of his past. At a low point in his life, Phillip committed that if God healed him he would spend his life helping others heal from their past.
God healed Phillip and blessed Phillip with a growing business as the tool for Phillip to use to heal others. Phillip's business has hired many ex-cons, drug addicts, and broken people and has become a place of healing for many.
Galatians 6:2 teaches, "Bear one another's burdens, and thereby fulfill the law of Christ."
If God has healed you of your past, how might you use your workplace platform to carry the burdens of others?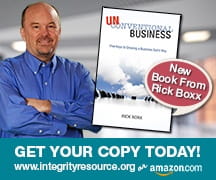 Learn more about Rick Boxx and Integrity Resource Center