The Twister and the Thunderbolt
There I was – a 66 year-old man with my 16 year-old grand daughter ready to mount the second largest wooden roller coaster in the entire country called "The Twister." Over forty-five years ago, Sharon and I rode in the front car of the then world's largest wooden roller coaster at Kennywood Park just outside of Pittsburgh, Pennsylvania. I did it then. What was to stop me from doing it again, but this time with my beautiful granddaughter? After all, if I could ride the country's largest coaster, the country's second largest wooden coaster should be a piece of cake. Right?
As we were standing in line waiting our turn, this massive roller coaster roared above us, beside us and underneath us rattling and vibrating the entire massive wooden structure of this modern wonder. It seemed to me that the screams emanating from each pass of the giant flying machine were screams of utter terror. Just then I recalled my flight into terror with my wife those many years ago. We rode the "Thunderbolt" three times that memorable day as a couple of 21 year-olds. The first time we rode we were in the middle of the train. The second time we rode we were in the very last car, the tail of the great whip. But the third time we were in the very front car where the experience was incredibly different. We were in charge of the action (at least it felt like we were) and the perspective from the front car was mind-boggling.
This is when I got the bright idea (not so bright when you are 66) that Katie and I should wait in line to insure that we would be in that first car. It was BRUTAL. Something happened between the age of 21 and the age of 66. My body rebelled and mocked me as an idiot with no brain. I spent the rest of that day with a nasty headache recalling those many signs conspicuously posted along the way to the front of the line that warned people like me that we were no longer kids.  But I wouldn't trade that moment with our Katie for a thousand such headaches. We were making priceless memories, so special that when she is 66 and rides that same roller coaster with her grandchild she will remember her day with her Granddad in the front car of "The Twister." God's Word exhorts us to continue to bear fruit in our old age.  Sometimes we make fruit bearing much more complicated than it needs to be, forgetting that creating  priceless moments like these are tiny pieces of the beautiful mosaic God is creating with each of our lives.  These are the kinds of moments that create highways into the hearts of others, highways easily travelled back to each other when life takes a sudden turn into a confusing or dark place. The headache?  Worth it. 
Digging Deeper:  Psalm 92
Special Offer:  For free resources that offer help and hope, visit www.markinc.org
SPECIAL OFFER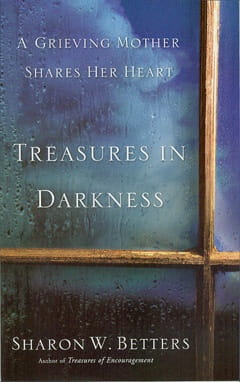 "In twenty years of women's ministry I have never read such a compelling, painfully real, transparent perspective on grief...Do you know of someone struggling with grief and loss? This treasure needs to be the first gift you place in their hands." Tammy Maltby, co-host of Aspiring Women and author of 'Lifegiving'.
"...Sharon squarely faces personal pain and tenderly offers the realities of faith to provide a journey to hope even through our darkest nights." -Bryan Chapell, Covenant Theological Seminary.
"Recognizing that our lives here on this side of
heaven
will be fraught with darkness and sorrow, Betters's experience with grief will encourage and comfort you. With biblical wisdom and gentle insight, she'll draw your broken heart up to where hers is resting safely in the loving arms of the Savior. I heartily recommend this book."  -Elyse Fitzpatrick, Author of Idols of the Heart, Give Them Grace
FREE with each book: Loss of a Loved One CD, one hour long interview with Chuck and Sharon Betters. Retail Value: $12.95
For more information from In His Grip with Dr. Chuck F. Betters please visit http://www.markinc.org/
https://www.oneplace.com/ministries/in-his-grip/