February 22. 2021
Don't Interrupt Me!
Mary Southerland
Today's Truth
Then the people brought their little children to Jesus. His followers told them to stop, but Jesus said, 'Let the little children come to me. Don't stop them, because the kingdom of heaven belongs to people who are like these children (Matthew 19:13-14, NCV).
Friend to Friend
One Saturday night our daughter Danna and I were invited to join a group of people from church for dinner. I didn't really want to go. I was tired. Money was tight, and I didn't want to waste the time it would take our large group to eat. But Danna really wanted to go, so I gave in – with great reluctance and a fairly bad attitude.
The line at the restaurant was long, but after finally being seated, the waitress asked for my order. I then turned to Danna for her order – only to discover she hadn't even opened her menu. She was staring across the room at what I suspected was some cute guy. But when I followed her stare, I was surprised to discover that the object of her attention was a little boy with Down's syndrome.
It was obvious that the child's mother was tired and frustrated as she tried in vain to feed her son his dinner. "Mom, I have to go see him," Danna said. Before I could list even one reason it would be a bad idea to do so, she was standing in front of the little boy's table, introducing herself to his parents.
Jesus and His disciples were on their way to Jerusalem. The Kingdom was being preached and the disciples were getting excited about the work Jesus was doing. Perhaps the disciples got lost in visions of a grand entrance and the status that awaited them.
This reminded me of when Jesus saw a gaggle of children that caught His attention, like the little boy caught Dana's. People constantly brought their children to receive Jesus' blessing. The disciples viewed children as distractions while Jesus viewed them as the Kingdom's future. Jesus was indignant when He saw the disciples' response to the children and His instructions were very clear.
But Jesus said, 'Let the little children come to me. Don't stop them, because the kingdom of heaven belongs to people who are like these children' (Matthew 19:14, NCV).
Life is not a series of accidents but a succession of divine appointments. That interruption we complain about, that intrusion we resent is simply a window of opportunity sent by God.
Our response to intrusions would drastically change if we adopted the perspective of building into every day's schedule margins of time that allow for divine interruptions. Jesus did.
For thirty minutes, I watched the almost magical way my daughter interacted with Randy, entertaining him with napkins and menus, whispering secrets meant only for his ears, making him laugh while persuading him to eat his unwanted dinner. Randy's mom looked at me with tear-filled eyes and said, "Thank you for being here and for bringing your daughter. I was so tired and discouraged that we came here to get out of the house, something I don't often get to do. Your daughter has reminded me how special my son really is."
I thought back for a moment. I thanked God that He had graciously overridden my selfish attitude and used my daughter to encourage a weary mom and delight a special little boy.
At the heart of most interruptions is the opportunity to encourage someone in need. There are those who suffer alone and in silence, unable to scrape up the courage to share their pain. Like many children, they have no advocate to sound the alarm on their behalf.
God delights in using people to reach out and love others who are helpless, paralyzed by their pain. I believe God will not only give us the discernment to see that pain; but He will also show us how to encourage and build up those who are hurting - if we ask Him.
Let's Pray
Lord, please fill my heart with Your love for the abrasive people in my life. Please let me see them as You see them. Use each one, Father; to refine me to the place that I am the woman You created me to be. I choose to thank You for the difficult relationships in my life, knowing that through these abrasive people, Your work is accomplished in me. In Jesus' Name, Amen.

Now It's Your Turn
Write the name of your toughest relationship in your journal.
Pray for that person.
What has God taught you through this person?
More from the Girlfriends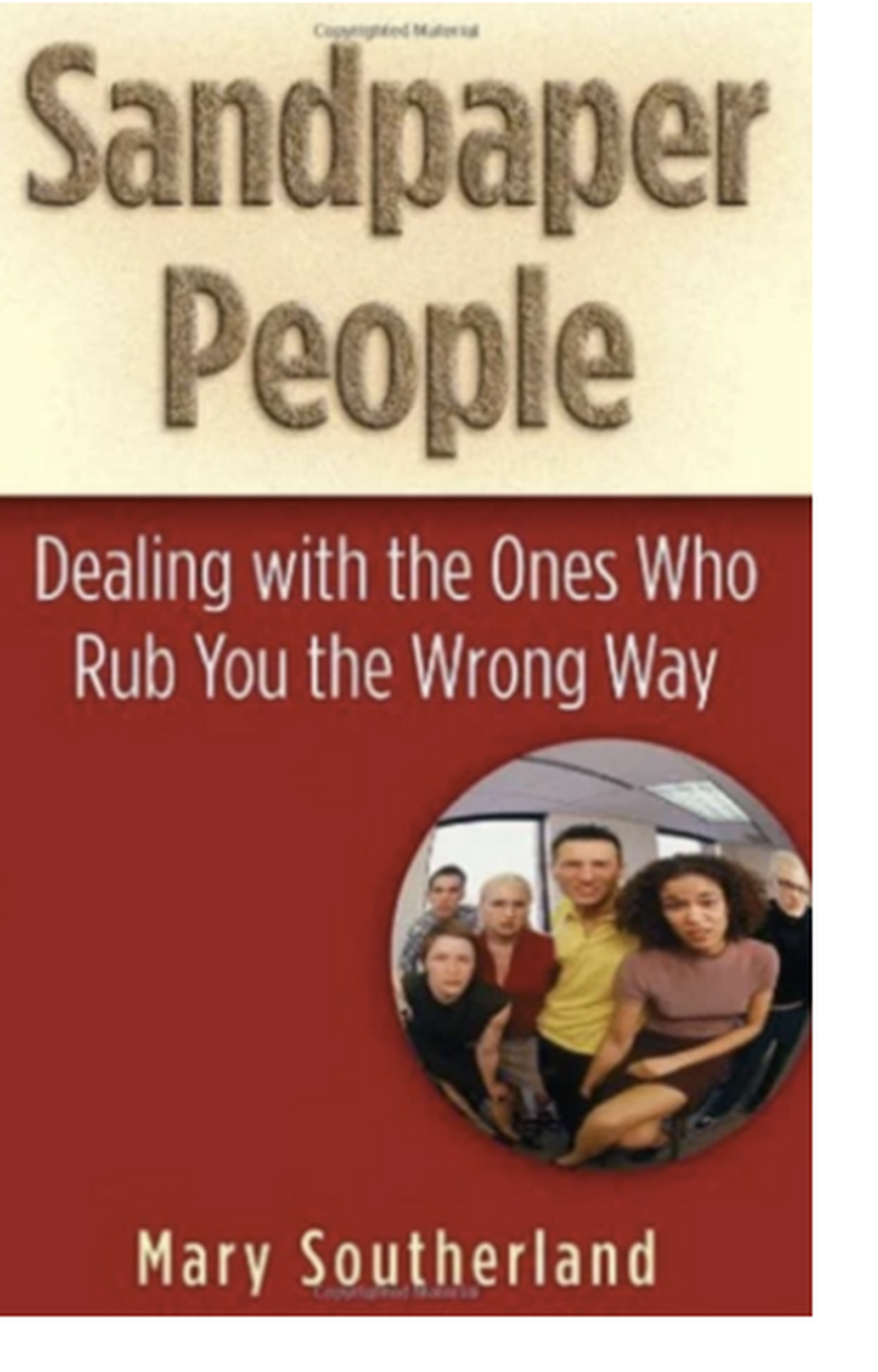 Pray that God will give you His eyes to see the hurting and wounded around you. The book, Sandpaper People, is Mary's life story of how God taught her to deal with hurting and difficult people. Check it out!
Don't miss the Freebies available at www.marysoutherland.com.
© 2021 by Mary Southerland. All rights reserved.