LET THE REDEEMED OF THE LORD SAY SHHHH?
"If I say to the wicked, 'You shall surely die,' and you give him no warning, nor speak to warn the wicked from his wicked way, in order to save his life, that wicked person shall die for his iniquity, but his blood I will require at your hand." Ezekiel 3:18 ESV
The other day I read a story that blew my mind. A terrorist placed a bomb inside a busy office building. It was set to go off at 2:00 p.m. At 1:00 p.m., an office employee found out about the bomb. This person knew all were going to be killed at 2:00 p.m. unless they were warned and fled.
Incredibly, this person was so afraid that people might not believe her … so afraid that her warning would go unheeded … so afraid someone might get mad at her and make fun of her and call her a nut … she was so afraid that she said nothing to anyone. She just left the building herself to escape the bomb. Sure enough, the bomb went off at 2:00 p.m., and all those in the building were killed.
That fictitious story actually takes place in the spiritual world each day. There is a bomb called sin that is in the building of every person who does not know Jesus Christ. If the lost do not escape the bomb through the blood of God's own Son, they will surely die and spend eternity in a terrible, horrible place called hell. Christians know about the bomb … and have been saved from the bomb … and have been left on this earth for one main reason: TO TELL OTHERS ABOUT THE ONLY WAY OF ESCAPE FROM THE BOMB.
OUR MISSION
Jesus said that you and I are to be His witnesses. We are the ones who warn others about the bomb and the sure salvation found only in Jesus. We are to live our lives in the power of the Holy Spirit and consistently shine for Christ and share the gospel with others who are lost, dying and on the road to destruction. The Bible says, "How can they hear without a preacher?" That preacher is YOU!
Are you actively praying for people who do not know Christ? Are you sharing with people at work, at school, and in the community? Listen, the unsaved people you know are one heartbeat away from an everlasting hell … at any moment the bomb could go off. Have you told them? Surely you would not be like the office worker in the opening story, would you?
CHALLENGE
Let me challenge you as I challenge myself, do not let a day go by that you do not open your mouth in witness for the Lord. Ask God to give you opportunities to share with people you rub shoulders with everyday. Be lovingly bold in your witness for Jesus. It is true that some people will not like you because you talk to them about the Lord. Some may laugh at you, some may ostracize you, some may persecute you … but others will escape the bomb because of your witness. If only ONE comes to Christ as a result of your sharing, it will be worth it for all eternity!
Love,
Pastor Jeff Schreve,
From His Heart Ministries
P.S. I'd love to hear about how God has used your witness to draw someone to Christ. Email me at [email protected]
Jeff Schreve founded From His Heart Ministries, www.fromhisheart.org, in 2005 with the vision to reach as many people as possible with the good news of God's love. Jeff believes that no matter how badly you may have messed up in life, God still loves you and has a great plan just for you. He broadcast on radio, TV and in the internet around the world from his pulpit ministry as Pastor of First Baptist in Texarkana, Texas. This ministry is completely listener/viewer supported. It continues only through the faithful and generous gifts of people like you. Pastor Jeff takes no income from this ministry. All gifts go to further the broadcast.
SPECIAL OFFER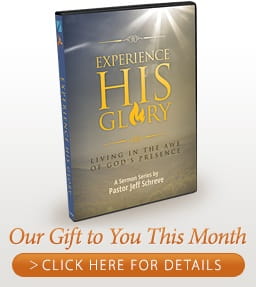 Experience His Glory: Living in the Awe of God's Presence
When Moses was on Mount Sinai receiving the
10 commandments
, he made this request, "Please show me YOUR glory." Have you ever experienced the Glory of God in your life?
Have you ever asked Him to show it to you? God WANTS to reveal Himself to His children. He wants to show us His glory. In this revealing series from Pastor Jeff Schreve called, EXPERIENCE HIS GLORY: LIVING IN THE AWE OF GOD'S PRESENCE, we will see how we can experience the glory of God in our day to day lives and the difference it will make in how we live.