"Por cuanto en mí ha puesto su amor, yo también lo libraré; lo pondré en alto, por cuanto ha conocido mi nombre" (Salmo 91-14,16 RV).
Sólo unas horas antes de que mi mamá pasara a la presencia de su Salvador, le leí el Salmo 91 a ella. Ha sido por mucho tiempo uno de mis capítulos favoritos en la Biblia, pero me pareció fresco cuando lo leí en voz alta esa mañana y me puse a pensar lo que significa poner nuestro amor sobre Cristo. Creo que es importante considerar esa declaración, ya que las promesas siguientes dentro de ese capítulo dependen de de si nosotros realizamos esa condición en particular.
Decir que amamos al Señor no es ninguna declaración ligera. Cuando amamos a los demás, por lo general queremos dedicarles tiempo a ellos. Los honramos con nuestras palabras y nuestras acciones. Les hablamos a los demás sobre ellos. Consideramos sus deseos y sentimientos cuando tomamos opciones en nuestras propias vidas.
He estado contemplando completamente esos aspectos del amor desde ese día cuando estaba al lado de la cama de mi madre. Nada trae nuestro enfoque a las cosas eternas más que cuando alguien se va de esta tierra, ¿verdad? Y así debe de ser. ¿Seremos capaces de decir con seguridad en ese momento que hemos puesto nuestro amor sobre Él? Hoy es el día para tomar esa opción. Amarlo a Él nos permitirá amar a los demás como a nosotros mismos — y que, como nos recuerda Jesús, es la culminación de toda la Ley y los Profetas.
***
"Because he has set his love upon Me, therefore I will deliver him;… With long life I will satisfy him, And show him My salvation" (Psalm 91:14, 16).
Just hours before my mom passed into the presence of her Savior, I read Psalm 91 to her. That has long been one of my favorite chapters in the Bible, but it seemed fresh to me as I read it aloud that morning and pondered what it meant to set our love upon Christ. I believe it's important to consider that statement, as the following promises within that chapter are dependent upon our fulfilling that particular condition.
To say we love the Lord is no light statement. When we love others, we usually want to spend time with them. We honor them with our words and our actions. We tell other people about them. We consider their desires and feelings when making choices in our own lives.
I've been contemplating those aspects of love quite a bit since that day at my mother's bedside. Nothing brings our focus to the eternal more than someone's passing from this earth, does it? And well it should. For one day we will each walk through that "valley of the shadow of death." Will we confidently be able to say at that moment that we have set our love upon Him? Today is the day to make that choice. Loving Him will enable us to love others as ourselves—and that, as Jesus reminded us, is the fulfillment of all the Law and the Prophets.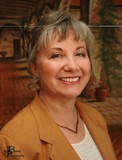 Kathi Macias, popular speaker and prolific author, is an Angel-award winning writer who has published nearly thirty books, including her latest releases, Mothers of the Bible Speak to Mothers of Today (New Hope Publishers) and My Son John (a novel from Sheaf House). Whether keyboarding her latest book, keynoting a conference, or riding on the back of her husband's Harley, Kathi "Easy Writer" Macias is a lady on a mission to communicate God's vision. Her insightful words—filled with passion, humor and soul nourishment—refresh audiences from all walks of life. Join Kathi as she hosts "Write the Vision" every Thursday from 6—7 p.m. (Pacific Time) via THE International Christian Network (www.theicn.com). To learn more about Kathi or to book her for your next event, visit www.KathiMacias.com. Spanish translations by Cynthia Alcantara ([email protected]).