Mas al fin del tiempo yo Nabucodonosor alcé mis ojos al cielo, y mi razón me fue devuelta; y bendije al Altísimo, y alabé y glorifiqué al que vive para siempre, cuyo dominio es sempiterno, y su reino por todas las edades.
(Daniel 4:34 RV 1960).
¿Se ha encontrado usted alguna vez diciendo algo como, "pienso que estoy perdiendo mi mente"? Yo sí, y es por lo general porque mi cerebro se encuentra sobrecargado haciendo cosas múltiples. Todo lo que realmente tengo que hacer es reducir la velocidad un poco y las cosas vuelven nuevamente a su enfoque.
No fue así de fácil para el gran Rey Nabucodonosor, que había contemplado su Imperio y había alardeado que todo eso lo había logrado con sus propios esfuerzos. Dios rápidamente le dio al arrogante gobernador un vistazo de la realidad, conduciéndolo a los campos a comer hierbas con los animales. No fue sino hasta que levantara sus ojos al cielo que su entendimiento se le devolvió y él finalmente dio la gloria a Dios, reconociéndolo como gobernador soberano sobre todos.
¡Cómo de fácil debe de ser convertirse en alguien como Nabucodonosor, y mirar fijamente sobre nuestros propios pequeños reinos (casa, familia, ocupación, posesiones) y comenzar a pensar que hemos conseguido todo esto por nuestra propia fuerza! ¡Y cómo de importante es conservar nuestros ojos levantados hacia el cielo para no hacer algo tan malo! Aparte de la gracia y la piedad de Dios no podríamos tomar nuestro siguiente suspiro, sin mencionar la acumulación de fama o fortuna. Que no seamos nosotros nunca tan tontos como para pensar que estamos encargados de algo, ya que solo es en Él que "vivimos y nos movemos y somos" (Hechos 17:28).
¿Personalmente, encuentro esto muy consolador, verdad?
***
For His dominion is an everlasting dominion, And His kingdom is from generation to generation (Daniel 4:34, NKJV).
Have you ever caught yourself saying something like, "I think I'm losing my mind"? I have, and it's usually because my brain is overloaded with multi-tasking. All I really need to do is slow down a bit and things come back into focus.
It wasn't that easy for the once great King Nebuchadnezzar, who had gazed upon his empire and boasted that it was all of his own doing. God quickly gave the arrogant ruler a reality check, driving him out into the fields to eat grass with the animals. It wasn't until he lifted his eyes to heaven that his understanding returned to him and he finally gave glory to God, recognizing Him as the sovereign ruler over all.
How easy it is to become like Nebuchadnezzar and gaze out over our own little kingdoms (home, family, occupation, possessions) and begin to think that we've achieved it all in our own strength! And how important it is to keep our eyes lifted toward heaven so we don't do such an evil thing! Apart from God's mercy and grace we could not take our next breath, let alone amass fame or fortune. May we never be so foolish as to think we are in charge of anything, for it is only in Him that we "live and move and have our being" (Acts 17:28).
Personally, I find that very comforting, don't you?
***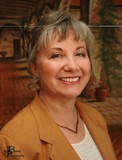 Kathi Macias, popular speaker and prolific author, is an Angel-award winning writer who has published nearly thirty books, including her latest releases, Mothers of the Bible Speak to Mothers of Today (New Hope Publishers) and My Son John (a novel from Sheaf House). Whether keyboarding her latest book, keynoting a conference, or riding on the back of her husband's Harley, Kathi "Easy Writer" Macias is a lady on a mission to communicate God's vision. Her insightful words—filled with passion, humor and soul nourishment—refresh audiences from all walks of life. Join Kathi as she hosts "Write the Vision" every Thursday from 6—7 p.m. (Pacific Time) via THE International Christian Network (www.theicn.com). To learn more about Kathi or to book her for your next event, visit www.KathiMacias.com. Spanish translations by Cynthia Alcantara ([email protected]).