"Señor, ¿a quién iremos? Tú tienes palabras de vida eterna."
Juan 6:68 (Reina-Valera 1995)
Jesús era un Maestro cariñoso, y por eso no endulzaba Sus enseñanzas. Siempre listo a animar y perdonar, Él también les dedicó mucho tiempo a posibles discípulos advirtiéndolos de la clase de vida difícil que ellos llevarían si decidieran seguirlo.
En un momento de enseñanza, cuando muchos fueron abrumados por la enseñanza de Jesús y le dieron la espalda en vez de seguirlo, Jesús le preguntó a Pedro si él lo abandonaría también. Pedro respondió, Señor, ¿a quién iremos? Usted tiene las palabras de la vida eterna."
¡AMÉN! ¿Cuántas veces hemos tropezado en nuestro caminar con el Señor, encontrándonos contra sitios y situaciones tan difíciles y dolorosas que quisimos abandonar todo y decir, "simplemente ya no puedo hacer esto más"?
Entonces se hace la pregunta: ¿Dónde más iremos? Jesús es el ÚNICO camino a la vida eterna ya una relación con el Padre. Nuestra opción debe ser continuar siguiéndolo a Él, sin tener en cuenta los procesos y privaciones, o apartarnos de Dios completamente.
Esto no es realmente una opción viable, ¿verdad? como Pedro, debemos seguir avanzado, adhiriéndonos fuertemente a la mano del Que va antes de nosotros, camina al lado de nosotros, sirve como nuestra retaguardia, vive dentro de nosotros, y nos rodea con cánticos de liberación. Sólo Él puede traernos bien al hogar celestial, donde las dificultades y la desilusión de esta vida temporal se descolorarán a la invisible luz de Su Gloria.
No se desalienten mis queridos amigos. Dios es fiel, Él ha extendido a nosotros las palabras de vida…y realmente no hay ningún otro lugar a donde ir.
***
"Lord, to whom shall we go?
You have the words of eternal life" (John 6:68).
Jesus was a loving Teacher, and because of that He did not sugar-coat His teachings. Always ready to encourage and forgive, He also spent a lot of time warning prospective disciples of the difficult life they would lead if they chose to follow Him.
At one such teaching moment, when many were overwhelmed by Jesus' teaching and turned away from following Him, Jesus asked Peter if he would leave him too. Peter responded, "Lord, to whom shall we go? You have the words of eternal life."
AMEN! How many times have we stumbled in our walk with the Lord, finding ourselves up against places and situations so difficult and painful that we wanted to throw in the towel and say, "I just can't do this anymore"?
The question then becomes: Where else will we go? Jesus is the ONLY way to eternal life and relationship with the Father. Our choice is to continue following Him, regardless of the trials and hardships, or turn away from God entirely.
That's really not a viable choice, is it? Like Peter, we must continue to press forward, clinging tightly to the hand of the One who goes before us, walks beside us, serves as our rearguard, lives within us, and surrounds us with songs of deliverance. Only He can bring us safely home, where the difficulties and disappointments of this temporal life will fade to invisible in the light of His Glory.
Don't be discouraged, beloved. God is faithful, He has extended to us the words of eternal life…and there truly is nowhere else to go.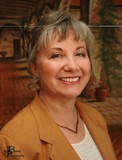 Kathi Macias, popular speaker and prolific author, is an Angel-award winning writer who has published nearly thirty books, including her latest releases, Mothers of the Bible Speak to Mothers of Today (New Hope Publishers) and My Son John (a novel from Sheaf House). Whether keyboarding her latest book, keynoting a conference, or riding on the back of her husband's Harley, Kathi "Easy Writer" Macias is a lady on a mission to communicate God's vision. Her insightful words—filled with passion, humor and soul nourishment—refresh audiences from all walks of life. Join Kathi as she hosts "Write the Vision" every Thursday from 6—7 p.m. (Pacific Time) via THE International Christian Network (www.theicn.com). To learn more about Kathi or to book her for your next event, visit www.KathiMacias.com. Spanish translations by Cynthia Alcantara ([email protected]).