"Y dij De cierto os digo, que si no os volviereis, y fuereis como niños, no entraréis en el reino de los cielos."
San Mateo 18:3 RV
Hace unos días mi marido y yo nos fuimos rápidamente a un centro comercial, y estaba tan lleno de gente y tan agitado como lo habíamos esperado. Circulábamos por el segundo piso cuando nos encontramos con una banca vacía y decidimos descansar durante unos minutos.
Apenas acabábamos de sentarnos cuando echamos un vistazo abajo de nuestra alta percha y realizamos que estábamos colocados exactamente encima de la línea para ir a ver a Santa. Los niños y los padres esperaban con expectación (unos con paciencia, la mayor parte no tanto) para su posibilidad a hablar con el alegre anciano. Aunque yo prefiero usar esta temporada para concentrarme en la celebración del nacimiento de Cristo, más bien que dar y recibir de regalos materiales, aprendí mucho durante nuestra observación de este acontecimiento.
Los bebés eran previsibles. Los padres de familia tiernamente colocaban a sus pequeños en los brazos de Santa y luego esperaban y oraban para una foto decente mientras el bebé gritaba para que lo rescataran. Los niños mayores parecían poco dispuestos o hasta avergonzados en la visita a Santa y posar para la fotografía, pero ellos se aseguraban de presentar su lista de deseos y aprovechaban el tazón de bastoncitos de azúcar en la mesa cercana. Pero eran los pequeños quiénes eran suficientemente mayores para no asustarse por el extraño de barba blanca y que eran aún todavía bastante jóvenes para creer lo que ellos habían oído sobre este benévolo donante de regalos que más nos impresionó.
Una niña, que no podía haber tenido más de tres o cuatro años, se acercó "al trono" de Santa aparentemente con temor, sus ojos se abrieron grandemente cuando él la puso en su regazo. No podíamos oír lo que fue dicho, pero asumimos que él le preguntó lo que ella deseaba para la Navidad. Más bien que contestar, ella impulsivamente lanzó sus bracitos alrededor de su cuello y se agarró a él. Santa pareció agradablemente sorprendido. Cuando ella finalmente retrocedió, él le habló otra vez, y otra vez ella respondió con un abrazo. Cuando él la dejó y ella comenzó a alejarse para que el siguiente niño pudiera tener una posibilidad, ella de repente se paró y se volvió atrás, luego corrió y lanzó sus brazos alrededor de él una vez más. ¡El "jo, jo, jo" de Santa fue el más alegre que alguna vez he oído!
Yo no podía menos que comparar lo que vi con nuestro propio acercamiento a Dios. Antes de que tengamos el conocimiento personal de quién es Él, nos aterrorizamos de Su presencia y queremos escaparnos, como aquellos bebés hicieron con Santa. Cuando estamos un poco más mayores y lo hemos conocido durante algún tiempo, al punto que entrando en Su presencia ya no golpea el temor en nuestros corazones, estamos en el peligro del acercamiento a Él sólo para presentarle nuestra lista de deseos, como si Él mismo fuera nuestro propio y personal Santa. Como oro por esto cuando entramos a esta temporada de Navidad para reflexionar sobre el mayor Regalo que alguna vez se no es dado y que nos parezcamos a aquella niña, entrando en la presencia de Dios, humildemente y con los ojos muy abiertos, no queriendo nada más que sentarnos en Su regazo y lanzar nuestros brazos alrededor de Él en amor y gratitud.
¡Shalom y Feliz navidad mis queridos amigos!
***
"Unless you are converted and become as little children, you will by no means enter the kingdom of heaven."
Matthew 18:3, NKJV
My husband and I broke away for a quick trip to the mall a few days ago, and it was every bit as crowded and hectic as we'd expected. We were cruising the second floor when we spotted an empty bench and decided to rest for a few minutes.
No sooner had we settled ourselves in than we glanced down from our lofty perch and realized we were positioned just above the Santa line. Children and parents waited expectantly (some patiently, most not so much) for their chance to talk with the jolly old man. Though I prefer to use this season to focus on the celebration of Christ's birth, rather than the giving and receiving of material gifts, I learned a lot during our observation of this event.
Babies were predictable. Anxious parents would lovingly place their little ones in Santa's arms and then hope and pray for a decent photo while the baby screamed for rescue. The older children seemed reluctant or even embarrassed at visiting Santa and posing for a picture, but they made sure to present their wish list and take advantage of the bowl of candy canes on the nearby table. But it was the little ones who were old enough not to be frightened by the white-bearded stranger yet still young enough to believe what they'd heard about this benevolent gift-giver that touched us the most.
One little girl, who couldn't have been more than three or four, approached Santa's "throne" in seeming awe, her eyes wide as he pulled her up on his lap. We couldn't hear what was said, but we assumed he asked her what she wanted for Christmas. Rather than answer, she impulsively threw her arms around his neck and clung to him. Santa appeared pleasantly surprised. When she finally drew back, he spoke to her again, and again she responded with a hug. When he put her down and she started to walk away so the next child could have a chance, she suddenly stopped and turned back, then ran to him and threw her arms around him one more time. Santa's "ho ho ho" was the most joyous I've ever heard!
I couldn't help but compare what I saw to our own approach to God. Before we have personal knowledge of who He is, we are terrified of His presence and want to escape, just as those babies did with Santa. When we're older and have known him for some time, to the point that coming into His presence no longer strikes awe into our hearts, we are in danger of approaching Him only to present Him with our wish list, as if He Himself were our own personal Santa. How I pray that as we use this Christmas season to reflect on the greatest Gift ever given we will be like that little girl, coming into God's presence, humbly and wide-eyed, wanting nothing more than to sit on His lap and throw our arms around Him in love and gratitude.
Shalom and Merry Christmas, dear ones!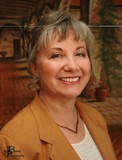 Kathi Macias, popular speaker and prolific author, is an Angel-award winning writer who has published nearly thirty books, including her latest releases, Mothers of the Bible Speak to Mothers of Today (New Hope Publishers) and My Son John (a novel from Sheaf House). Whether keyboarding her latest book, keynoting a conference, or riding on the back of her husband's Harley, Kathi "Easy Writer" Macias is a lady on a mission to communicate God's vision. Her insightful words—filled with passion, humor and soul nourishment—refresh audiences from all walks of life. Join Kathi as she hosts "Write the Vision" every Thursday from 6—7 p.m. (Pacific Time) via THE International Christian Network (www.theicn.com). To learn more about Kathi or to book her for your next event, visit www.KathiMacias.com. Spanish translations by Cynthia Alcantara ([email protected]).