Esforzaos y cobrad ánimo; no temáis, ni tengáis miedo de ellos, porque Jehová tu Dios es el que va contigo; no te dejará, ni te desamparará (Deuteronomio 31: 6 RV 1960).
El miedo. A veces su identidad está espantosamente clara; otras veces esto es sólo un sentimiento sin nombre, una vaga inquietud. De cualquier manera, puede ser un enemigo formidable, uno que puede llevarnos a tomar opciones imprudentes o a detenernos paralizados, incapaces de movernos en cualquier dirección.
Dios no ha intentado que el miedo nos controle de ninguna manera. El miedo no viene de Dios; esto es un instrumento del enemigo de nuestra alma. Y nuestro fiel Señor ha proporcionado todo lo que tenemos que hacer para derrotarlo. "Esforzaos y cobrad ánimo," Él nos llama. "no temáis, ni tengáis miedo." ¿Por qué? Porque no hay NADA en nuestra vida que tendremos que afrontar alguna vez por nosotros mismos. El Señor nuestro Dios, Él es quién va con nosotros, quién se para por nosotros, quién lucha por nosotros, y quién nos lleva cuando estamos demasiado débiles para estar de pie.
Hoy, si el miedo susurra su nombre o grita sus amenazas, soporte fuertemente, mi querido amigo, ya que adentro están las armas eternas, reforzándose y sosteniéndolo a usted, luchando por usted y declarando la victoria sobre usted. Esfuércese y cobre ánimo, ya que Dios ha prometido NUNCA dejarlo o abandonarlo. Y esta es una promesa en la que usted puede creer.
***
"Be strong and of good courage, do not fear nor be afraid of them; for the Lordyour God, He is the One who goes with you. He will not leave you nor forsake you" (Deuteronomy 31:6, NKJV).
Fear. Sometimes its identity is terrifyingly clear; other times it is but an unnamed, vague sense of unease. Either way, it can be a formidable enemy, one that may drive us to make unwise choices or to stand paralyzed, unable to move in any direction.
God hasn't purposed for fear to control us in any such manner. Fear does not come from God; it is a tool of the enemy of our soul. And our faithful Lord has provided all we need to defeat it. "Be strong and of good courage," He calls to us. "Do not fear nor be afraid." Why? Because there is NOTHING in our lifetime that we will ever have to face on our own. The Lord our God, He is the One who goes with us, who stands with us, who fights for us, and who carries us when we are too weak to stand.
Today, whether fear whispers your name or screams its threats, stand strong, beloved, for underneath are the everlasting arms, strengthening and holding you, fighting for you and declaring victory over you. Be strong and of good courage, for God has promised NEVER to leave or forsake you. And that's a promise you can believe in.
***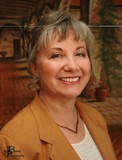 Kathi Macias, popular speaker and prolific author, is an Angel-award winning writer who has published nearly thirty books, including her latest releases, Mothers of the Bible Speak to Mothers of Today (New Hope Publishers) and My Son John (a novel from Sheaf House). Whether keyboarding her latest book, keynoting a conference, or riding on the back of her husband's Harley, Kathi "Easy Writer" Macias is a lady on a mission to communicate God's vision. Her insightful words—filled with passion, humor and soul nourishment—refresh audiences from all walks of life. Join Kathi as she hosts "Write the Vision" every Thursday from 6—7 p.m. (Pacific Time) via THE International Christian Network (www.theicn.com). To learn more about Kathi or to book her for your next event, visit www.KathiMacias.com. Spanish translations by Cynthia Alcantara ([email protected]).