"Sabiendo que mi separación del cuerpo terrenal es inminente" (2 Pedro 1:14 LBLA).
El diccionario de Merriam-Webster define la palabra inminente como "preparado para que suceda; especialmente: colgando amenazantemente sobre nuestra cabeza". Es bastante obvio que el apóstol Pedro, cuando escribió las palabras de arriba, reconoció que podría morirse en cualquier momento.
¿Por qué, entonces, no nos damos cuenta nosotros de la misma cosa? Podemos decir que estamos conscientes de esa verdad, pero si lo estuviéramos realmente, pienso que viviríamos de forma distinta.
Hace ocho meses mudé a mi madre a un asilo de ancianos donde podía recibir los cuidados que por lo general yo hacía pero que muchas veces no podía, especialmente cuando yo tenía que viajar. En un esfuerzo por ayudarle a que se adaptara, le hice unas tarjetas de presentación con su nueva dirección y número de teléfono para que ella las pudiera distribuir a sus amistades y conocidos. Como estaban diseñadas como tarjetas de presentación que usan las personas de negocios, pensé que también debía de poner algo más y puse: "esperando la llamada de venirme a la casa."
Me pareció apropiado en ese momento, especialmente ya que mi mamá estaba cerca de sus 90 años y en buena salud. Sin embargo, cuando miro esa tarjeta ahora, pienso, "¿Por qué no realicé lo profético que era eso?"
El pensamiento fue reforzado ayer cuando una columna que escribí en junio fue puesta en una publicación en línea el 31 de agosto. Ya se me había olvidado que yo la había escrito hasta que apareció repentinamente en Google, entonces hice clic en el eslabón para refrescar mi memoria. Allí estaba, un artículo sobre mi mamá, escrito en el presente. Ahora, dos meses más tarde, yo hablaba de ella en el pasado.
Sí, tenemos nueve años o 90, tenemos que vivir como el Apóstol Pedro, con el reconocimiento que "sabiendo que [nuestra] separación terrenal es "inminente" — "lista para ocurrir," hasta "colgando amenazantemente sobre [nuestra] cabeza." Porque Pedro entendió eso, dedicó lo último de su energía terrenal y su tiempo llamando a pecadores al arrepentimiento y a los santos a un compromiso más profundo. El tiempo es corto, mis queridos amigos. No quiero malgastar lo poco que queda. . ¿Y usted?
***
The laying aside of my earthly dwelling is imminent (2 Peter 1:14, NASB).
The Merriam-Webster dictionary defines imminent as "ready to take place; especially: hanging threateningly over one's head." Quite obviously the Apostle Peter, when he penned the words above, recognized that he could die at any moment.
Why, then, don't we realize the same thing? We may say we are aware of that truth, but if we really were, I think we might live differently.
Eight months ago I moved my mother into a retirement/assisted living facility where caregivers were available to help her with things that I normally took care of but was often unable to do, especially when I traveled. In an effort to help her make the adjustment, I had business cards made up with her new address and phone number on them so she could pass them out to friends and acquaintances. Because they were designed as business cards, I felt I should put some sort of "tag line" on them, so I chose "waiting for the call to come home."
It seemed appropriate at the time, particularly since Mom was nearly 90 years old and not in very good health. Yet, when I look at the card now, I think, "Why didn't I realize how prophetic that was?"
The thought was reinforced yesterday when a column I wrote in June was posted in an online publication on August 31. I'd forgotten I'd written it until it popped up on my Google Alerts, so I clicked on the link to refresh my memory. There it was, an article about my mom, written in the present tense. Now, two months later, I was speaking of her in past tense.
Whether we are nine or 90, we need to live as the Apostle Peter, with the recognition that the "laying aside of [our] earthly dwelling is imminent"—"ready to take place," even "hanging threateningly over [our] head." Because Peter understood that, he devoted the last of his earthly energy and time to calling sinners to repentance and saints to a deeper commitment. Time is short, beloved. I don't want to waste what little is left. How about you?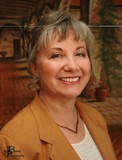 Kathi Macias, popular speaker and prolific author, is an Angel-award winning writer who has published nearly thirty books, including her latest releases, Mothers of the Bible Speak to Mothers of Today (New Hope Publishers) and My Son John (a novel from Sheaf House). Whether keyboarding her latest book, keynoting a conference, or riding on the back of her husband's Harley, Kathi "Easy Writer" Macias is a lady on a mission to communicate God's vision. Her insightful words—filled with passion, humor and soul nourishment—refresh audiences from all walks of life. Join Kathi as she hosts "Write the Vision" every Thursday from 6—7 p.m. (Pacific Time) via THE International Christian Network (www.theicn.com). To learn more about Kathi or to book her for your next event, visit www.KathiMacias.com. Spanish translations by Cynthia Alcantara ([email protected]).