Y se le apareció Jehová, y le dijo: No desciendas a Egipto; habita en la tierra que yo te diré.
3 Habita como forastero en esta tierra, y estaré contigo, y te bendeciré; porque a ti y a tu descendencia daré todas estas tierras, y confirmaré el juramento que hice a Abraham tu padre (Génesis 26:2-3 RV 1960).
A veces como creyentes nos encontramos en situaciones realmente difíciles. Con esperanza cuando nos encontramos en ese lugar buscamos la dirección de Dios. ¿"Señor, es esto de parte de Ti"? ¿"Deseas Tú que yo esté aquí, o debería yo de irme a otra parte?" A Dios le gusta esa clase de preguntas honestas. Cuando caemos en problemas es cuando nos quejamos, ¿"Dios, a donde estas Tú? ¿No puedes ver como estoy sufriendo? ¡Pensé que me amabas! ¿Cómo pudiste Tú permitir que yo terminara en un lugar tan horrible como este?" Y luego comenzamos a entretener pensamientos sobre regresar a Egipto — a la vida que teníamos antes que Dios nos rescatara y nos trasladara del reino de la oscuridad al Reino de Su querido Hijo.
Las palabras de Dios a Isaac son apropiadas para nosotros hoy en día, particularmente cuando estamos en un lugar difícil sin medios naturales para una fuga. Aunque el Señor pueda o no cambiar nuestras circunstancias en respuesta a nuestras súplicas, Él nos dirá ciertamente, "no bajes a Egipto. No busques resolver tus problemas volviéndote de regreso al mundo. El reino de la oscuridad no tiene nada para ti. Tú debes ponerte de pie rápidamente donde te he colocado. Mantiene tus ojos en Mí, yo estaré contigo y te bendeciré."
La asombrosa lección aquí es que aunque Isaac escuchara a Dios y no bajara a Egipto, él todavía no era un modelo de virtud. En un esfuerzo para salvar su propia piel, mintió y hacía que su esposa mintiera también. Aún, aunque Isaac no fuera fiel, Dios si lo era. ¿Por qué? El verso 24 nos da la respuesta: "Y se le apareció Jehová aquella noche, y le dijo: Yo soy el Dios de Abraham tu padre; no temas, porque yo estoy contigo, y te bendeciré, y multiplicaré tu descendencia por amor de Abraham mi siervo."Lo único que Isaac tenía que hacer era permanecer donde Dios lo había colocado y NO regresar a Egipto. Entonces incluso Dios no bendijo a Isaac debido al comportamiento bueno de Isaac (o falta de eso), sino mejor dicho porque Dios había hecho una promesa — y Dios siempre cumple Sus promesas. Sabemos que esto es verdadero porque la gente que vivía alrededor de Isaac le dijo en el verso 28, "Hemos visto que JEOVÁH está contigo."
La bendición de Dios para Isaac era obvia hacia la gente alrededor de él. Si queremos la bendición visible en nuestra vida – bendiciones no sólo de bienes materiales, pero mejor dicho de la fuerza de carácter, paz bajo presión, alegría en medio de la tristeza entonces debemos obedecer a Dios y no "regresar a Egipto" en busca de las respuestas a nuestros problemas. En cambio debemos estar de pie donde nos ha plantado Dios y confiar en Él para completarnos. Si hacemos esto, Él será fiel para cumplir Su Palabra y bendecirnos más allá de algo que nosotros podemos preguntar o pensar o imaginar.
Then the Lord appeared to him and said: "Do not go down to Egypt;
live in the land of which I shall tell you. Dwell in this land,
and I will be with you and bless you" (Genesis 26:2-3, NKJV).
Sometimes as believers we find ourselves in really hard situations. Hopefully at that point we focus on seeking God for direction. "Lord, is this from You? Do You want me here, or should I go somewhere else?" God is fine with that kind of honest questioning. Where we get into trouble is when we whine, "God, where are You? Can't You see how I'm suffering? I thought You loved me! How could You let me end up in such an awful place?" And then we begin to entertain thoughts about returning to Egypt—to the life we had before God rescued us and translated us from the kingdom of darkness into the Kingdom of His dear Son.
God's words to Isaac are appropriate to us today, particularly when we are in a tough place with no natural means of escape. Though the Lord may or may not change our circumstances in response to our pleas, He will certainly say to us, "Do not go down to Egypt. Don't seek relief from your problems by turning back to the world. The kingdom of darkness holds nothing for you. You must stand fast where I have placed you. Keep your eyes on Me, and I will be with you and bless you."
The amazing lesson here is that even though Isaac listened to God and did not go down to Egypt, he still wasn't a model of virtue. In an effort to save his own skin, he lied and had his wife lie too. Yet, though Isaac wasn't faithful, God was. Why? Verse 24 gives us the answer: "I am the God of your father Abraham; do not fear, for I am with you. I will bless you and multiply your descendants for My servant Abraham's sake." All Isaac had to do was to remain where God had placed him and NOT return to Egypt. Even then God didn't bless Isaac because of Isaac's good behavior (or lack thereof), but rather because God had made a promise—and God always keeps His promises. We know this is true because people living around Isaac said to him in verse 28, "We have certainly seen that the Lord is with you."
God's blessing on Isaac was obvious to the people around him. If we want visible blessing in our life—blessings not just of material goods but rather of strength of character, peace under pressure, joy in the midst of sorrow—then we must obey God and not "go down to Egypt" looking for answers to our problems. Instead we must stand where God has planted us and trust Him to carry us through. If we will do that, He will be faithful to keep His Word and to bless us beyond anything we can ask or think or imagine.
***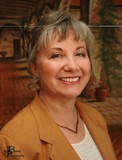 Kathi Macias, popular speaker and prolific author, is an Angel-award winning writer who has published nearly thirty books, including her latest releases, Mothers of the Bible Speak to Mothers of Today (New Hope Publishers) and My Son John (a novel from Sheaf House). Whether keyboarding her latest book, keynoting a conference, or riding on the back of her husband's Harley, Kathi "Easy Writer" Macias is a lady on a mission to communicate God's vision. Her insightful words—filled with passion, humor and soul nourishment—refresh audiences from all walks of life. Join Kathi as she hosts "Write the Vision" every Thursday from 6—7 p.m. (Pacific Time) via THE International Christian Network (www.theicn.com). To learn more about Kathi or to book her for your next event, visit www.KathiMacias.com. Spanish translations by Cynthia Alcantara ([email protected]).