Entonces aquel discípulo a quien Jesús amaba dijo a Pedro: ¡Es el Señor!
(San Juan 21:7 RV 1960)
Una variedad de pensamientos y sentimientos traspasan nuestros corazones y mentes en estos pocos días antes de la Navidad, pero hay uno que se me resalta hoy: porque Jesús vino a la tierra como un Bebé hace aproximadamente 2,000 años, vivió y amó entre nosotros, murió por nuestros pecados y se elevó otra vez, Él ha establecido nuestra identidad.
Después de la caída del hombre en el Huerto del Edén, la humanidad perdió su comunión cercana con Dios. Aunque todavía amados por su Creador, Adán y Eva habían cortado la unión de la que ellos habían disfrutado antes de que cedieran a la tentación. La humanidad entonces comenzó a experimentar un largo lapso de amnesia, desperdiciando sus vidas tratando de encontrar la realización aparte de Dios porque ellos han olvidado quienes son.
Jesús vino a restaurar la unión que se había separado del Padre y recordarnos de nuestra verdadera identidad: los hijos de Dios, los discípulos que Él amó.
¿No es esto un pensamiento asombroso? No era solamente el discípulo Juan a quien se podría referir como "el discípulo que Jesús amó,", pero todos y cada uno de nosotros que ha permitido la unión a Dios y ser restaurados a la obra expiatoria de Cristo en la Cruz. Esto es quizás uno de los aspectos más poderosos de la encarnación, algo que no acentuamos lo suficiente.
Mientras anda usted durante estos días antes del Advenimiento y durante Navidades pasadas, considere esta gran verdad en su corazón, como Maria lo hacía tan a menudo. Entonces, la próxima vez que tenga la oportunidad de describirse a alguien, considere incluso la declaración, "soy el discípulo que Jesús ama." Quizás usted tendrá hasta la posibilidad de abrirle los ojos a alguien más a esa gran verdad en su propia vida también.
¡Tengan una bendecida Navidad, mis queridos amigos!
Therefore that disciple whom Jesus loved said to Peter,
"It is the Lord!" (John 21:7, NKJV).
A variety of thoughts and sentiments run through our hearts and minds in these last few days before Christmas, but one stands out to me today: Because Jesus came to earth as a Babe some 2,000 years ago, lived and loved among us, died for our sins and rose again, He has established our identity.
After the fall of man in the Garden of Eden, humanity lost its close communion with God. Though still beloved by their Creator, Adam and Eve had severed the connection they'd enjoyed before they yielded to temptation. Mankind then began to experience a long, drawn-out siege of amnesia, wasting their lives trying to find fulfillment apart from God because they had forgotten who they were.
Jesus came to restore that severed connection with the Father and to remind us of our true identity: children of God, the disciples whom He loved.
Isn't that an amazing thought? It wasn't just the disciple John who could refer to himself as "that disciple whom Jesus loved," but each and every one of us who has allowed that connection to God to be restored through the atoning work of Christ on the Cross. It is perhaps one of the most powerful aspects of the incarnation, one we don't stress often enough.
As you walk through these last days of Advent and on past Christmas itself, let yourself ponder this great truth in your heart, as Mary so often did. Then, the next time you have the opportunity to describe yourself to someone, consider including the statement, "I am the disciple Jesus loves." Perhaps you will even have the chance to open someone else's eyes to that great truth in his/her own life as well.
Have a blessed Christmas, beloved!
***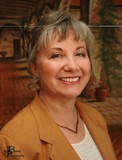 Kathi Macias, popular speaker and prolific author, is an Angel-award winning writer who has published nearly thirty books, including her latest releases, Mothers of the Bible Speak to Mothers of Today (New Hope Publishers) and My Son John (a novel from Sheaf House). Whether keyboarding her latest book, keynoting a conference, or riding on the back of her husband's Harley, Kathi "Easy Writer" Macias is a lady on a mission to communicate God's vision. Her insightful words—filled with passion, humor and soul nourishment—refresh audiences from all walks of life. Join Kathi as she hosts "Write the Vision" every Thursday from 6—7 p.m. (Pacific Time) via THE International Christian Network (www.theicn.com). To learn more about Kathi or to book her for your next event, visit www.KathiMacias.com. Spanish translations by Cynthia Alcantara ([email protected]).