El corazón del hombre piensa su camino;
Mas Jehová endereza sus pasos.(Proverbios 16:9 RV 1960).
¿Ha escuchado usted alguna vez el dicho que dice, "Si quieres hacer a Dios reír, simplemente dale tus planes?" Yo no sé si Dios se ríe cuando nosotros le damos una copia de nuestros planes, pero si se que Él no cambia Sus planes para aceptar los nuestros. ¿Y curiosamente, no nos gozamos de ello?
Cuando miro para atrás en mi vida, (y créame, ¡hay bastante para mirar hacia atrás en esos días!) descubro que el pesar más grande para mí vino como el resultado de seguir mis propios planes en vez de seguir los planes de Dios. A la inversa, cuando escojo caminar en Sus caminos – aún cuando no significaban nada para mí en esa época – yo siempre terminé en un lugar de bendición y de paz.
Así es que ¿por qué continúo con mis propios planes y me voy por mi propio camino – y después, casi como un pensamiento después de lo ocurrido, le pido a Dios que bendiga el resultado? "O.K.", lo sé, lo sé. Aún después de caminar como cuarenta años con Él, sigo atrapada en esta existencia física y sigo viviendo en este planeta roto. De ahí, el llamado a servirme a mi misma aún es un eco en mi corazón, a pesar de que yo sé mejor que prestar atención a esa falsa sirena.
¿Usted entiende esto, verdad? Usted también está atrapado(a) en una existencia física imperfecta y viviendo en un planeta roto. No siempre será así, y esto es algo para esperar con alegría. Hasta entonces, sigamos orando el uno por el otro y comprometamos nuestros corazones para seguirlo a Él con fuerza, gozándonos que es Él quien dirige nuestros pasos, que Sus planes para nosotros son buenos (ver a Jeremías 29:11), y que Él nunca nos conducirá a un camino incorrecto.
***
A man's heart plans his way, But the LORD directs his steps (Proverbs 16:9).
Have you ever heard the saying, "If you want to make God laugh, just tell him your plans"? I'm not sure if God laughs when we outline our plans to Him, but I do know He doesn't change His plans to fit ours. And seriously, aren't we glad of that?
When I look back on my life (and trust me, there's a lot to look back on these days!) I find that my greatest regrets came about as a result of trying to pursue my own plans instead of God's. Conversely, when I chose to walk in His ways—even if they didn't make sense to me at the time—I always ended up in a place of blessing and peace.
So why do I still try to make my own plans and go my own way—and then, almost as an after-thought, ask God to bless the outcome? Okay, I know, I know. Even after nearly forty years of walking with Him, I'm still trapped in this imperfect physical existence and living on a broken planet. Hence, the call to serve self still echoes in my heart, despite the fact that I know better than to heed such a deceitful siren song.
You can relate, can't you? You too are trapped in an imperfect physical existence and living on a broken planet. It won't always be so, and that's something to anticipate with joy. Until then, however, let's continue to pray for one another and to commit our hearts to follow hard after Him, rejoicing that He is directing our steps, that His plans for us are good (see Jeremiah 29:11), and that He will never lead us down the wrong path.
***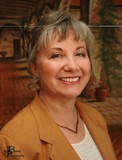 Kathi Macias, popular speaker and prolific author, is an Angel-award winning writer who has published nearly thirty books, including her latest releases, Mothers of the Bible Speak to Mothers of Today (New Hope Publishers) and My Son John (a novel from Sheaf House). Whether keyboarding her latest book, keynoting a conference, or riding on the back of her husband's Harley, Kathi "Easy Writer" Macias is a lady on a mission to communicate God's vision. Her insightful words—filled with passion, humor and soul nourishment—refresh audiences from all walks of life. Join Kathi as she hosts "Write the Vision" every Thursday from 6—7 p.m. (Pacific Time) via THE International Christian Network (www.theicn.com). To learn more about Kathi or to book her for your next event, visit www.KathiMacias.com. Spanish translations by Cynthia Alcantara ([email protected]).