El amor nunca deja de ser; pero las profecías se acabarán, y cesarán las lenguas, y la ciencia acabará. (1 Corintios 13:8 RV 1960).
Mañana es el último día de febrero, cuando nos despediremos oficialmente del mes de "¡los enamorados!" El Día de San Valentín ha venido y se ha ido, las flores han sido enviadas, caramelos se han comprado (y se han comido), cenas románticas han sido disfrutadas, tarjetas de $5 han sido compradas y enviadas. ¿Así es que ahora… qué? ¿Viene la celebración del amor a un alto hasta este mismo tiempo el próximo año?
Sólo si su concepto del amor es muy vacio y egocéntrico. Tristemente, en muchos casos, es exactamente eso. Y los resultados no son muy bonitos.
¿El peor caso? Oscar Pistorius proclamó amar a su hermosa novia, Reeva Steenkamp, y hasta pudo haber planeando una sorpresa romántica para el pasado Día de San Valentín. En cambio, terminó por matarle a tiros. Accidentalmente o a propósito es para un juez sudafricano decidirlo, pero de uno u otro modo la joven mujer está muerta y ella no celebrará más los Días de Valentín.
Trágico, independientemente de las circunstancias que condujeron a los disparos. La mayoría de las llamadas relaciones de amor no terminan tan trágicamente, y podemos estar agradecidos por esto. Sin embargo, sin una base solida en el sentido de sacrificio de la palabra "amor", sería fácil desesperarse por encontrarlo alguna vez en esta vida.
Aún así todos nosotros anhelamos un amor, y ese deseo nos impulsa desde niños hasta que tomamos el último suspiro. Pero sin primero entregarnos a Dios, Aquel quién nos ama tanto que lo dio todo para restaurar nuestra relación con Él, y reconociéndolo a Él como la única fuente del amor, fallaremos en nuestra búsqueda. A un grado u otro, nuestras experiencias con el amor, aparte de Dios y Su gran sacrificio por nosotros, nunca se realizará ese deseo en nuestros corazones.
Si queremos el amor que nunca falla, entonces debemos recordar la simple declaración en 1 Juan: "Dios es amor." Cuando nos aferramos a esa maravillosa verdad, nunca más relegaremos la celebración de amor a un mes o a un día en particular. ¡Lo celebraremos siempre y para siempre!
***
He who does not love does not know God, for God is love (1 John 4:8, NKJV).
Love never fails (1 Corinthians 13:8, NKJV).
Tomorrow is the last day of February, when we will officially say goodbye to the "month for lovers." Valentine's Day has come and gone, flowers have been sent, candy purchased (and eaten!), romantic dinners enjoyed, $5 cards bought and delivered. So…now what? Does the celebration of love come to a screeching halt until this time next year?
Only if your concept of love is extremely shallow and self-centered. Sadly, in many cases, it is exactly that. And the results aren't pretty.
Worse-case scenario? Oscar Pistorius claimed to love his beautiful girlfriend, Reeva Steenkamp, and may even have been planning a romantic surprise for her this past Valentine's Day. Instead, he ended up shooting her to death. Whether accidentally or on purpose is for a South African judge to decide, but either way the young woman is dead and she won't be celebrating anymore Valentine's Days.
Tragic, whatever the circumstances that led to the shooting. Most so-called love relationships don't end so tragically, and we can be thankful for that. Still, without a firm grounding in the sacrificial meaning of the word "love," it would be easy to despair of ever finding it in this life.
Yet we all long for love, and that longing drives us from the time we are infants until our last breath. But without first turning to God, the One who loves us so much that He gave everything to restore our relationship to Him, and recognizing Him as love's only source, we will fail in our quest. To one degree or another, our experiences with love, apart from God and His great sacrifice on our behalf, will never fulfill that longing in our hearts.
If we want love that never fails, then we must remember that simple statement in 1 John: "God is love." When we lay hold of that wonderful truth, we will never again relegate the celebration of love to one particular month or day. We will celebrate it always and forever!
***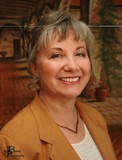 Kathi Macias, popular speaker and prolific author, is an Angel-award winning writer who has published nearly thirty books, including her latest releases, Mothers of the Bible Speak to Mothers of Today (New Hope Publishers) and My Son John (a novel from Sheaf House). Whether keyboarding her latest book, keynoting a conference, or riding on the back of her husband's Harley, Kathi "Easy Writer" Macias is a lady on a mission to communicate God's vision. Her insightful words—filled with passion, humor and soul nourishment—refresh audiences from all walks of life. Join Kathi as she hosts "Write the Vision" every Thursday from 6—7 p.m. (Pacific Time) via THE International Christian Network (www.theicn.com). To learn more about Kathi or to book her for your next event, visit www.KathiMacias.com. Spanish translations by Cynthia Alcantara ([email protected]).