… Por Su amor, nos predestinó para ser adoptados hijos suyos por medio de Jesucristo,según el puro afecto de Su voluntad, para alabanza de la gloria de Su gracia, con la cual nos hizo aceptos en el Amado. En él tenemos redención por Su sangre, el perdón de pecados según las riquezas de Su gracia (Efesios 1:5-7 RV1995).
Hace algunos años serví como consejera bíblica como miembro del personal en una iglesia grande de California del Sur. Como tal, oí historias y confesiones de toda clase imaginablemente posible. A cambio, oraba y ofrecía consejos apropiados de las Escrituras, nunca dejando de asombrarme que nunca hubo una pregunta que surgió durante todos aquellos años que Dios no había ya tratado en Su Palabra.
Aquellas preguntas cubrían una amplia variedad de temas, - relaciones humanas, adicciones, angustia — pero la base de todo era la necesidad de ser aceptado(a). El corazón humano clama el amor incondicional y la aceptación. Tristemente, la mayor parte de nosotros lo buscamos en todas partes excepto en el lugar donde puede ser encontrado: en el pie de la Cruz. Incluso aquellos de nosotros que hemos aceptado a Cristo como nuestro Salvador a menudo luchamos con el concepto que hemos sidorealmente aceptados tal como somos. Por supuesto, esto no impide la necesidad de vivir una vida que honra a Cristo una vez que hemos recibido Su amor y aceptación. Como dice un viejo refrán, Dios nos ama tal como somos, pero Él nos ama demasiado como para dejarnos en ese estado.
Y ese es el punto importante. Como Efesios 1:5-7 lo indica tan sencilla y elocuentemente, es Dios que nos ha predestinado para ser Sus hijos; Él lo hizo porque esto lo complació hacerlo así; la alabanza para esto es debido a Su gracia por nosotros; y es Él quien nos ha aceptado en Su rebaño.
¿Mis queridos amigos, de quien es Padre Dios? De Su Hijo, por supuesto. Vemos esto en todas las partes de las Escrituras, los evangelios en particular. Cuando recibimos a Su Hijo como nuestro Señor y Salvador, el Espíritu de Dios viene para morar en nosotros, y somos "escondidos entonces con Cristo en Dios" (Colosenses 3:3). Dios ya no nos ve a nosotros o a nuestros pecados cuando Él nos mira; Él ve sólo a Su Querido Hijo, cuyo sacrificio Él ha aceptado totalmente.
La próxima vez que usted sea tentado a creer que Dios no lo ha aceptado totalmente (o no puede) aceptarlo tal como usted es, recuerde — cuando Él lo mira, Él ve a Jesús. ¡Alégrese en esa aceptación, mi querido hermano(a)!
***
…having predestined us to adoption as sons by Jesus Christ to Himself, according to the good pleasure of His will, to the praise of the glory of His grace, by which He made us accepted in the Beloved (Ephesians 1:5-7, NKJV).
Years ago I served as a biblical counselor on the staff of a large Southern California church. As such, I heard stories and confessions of every imaginable sort. In return, I prayed and offered appropriate counsel from the Scriptures, never ceasing to be amazed that there was not one issue that came up during all those years which God hadn't addressed in some way in His Word.
Those issues covered a wide variety of topics—relationships, addictions, heartache—but underlying all of them was the need for acceptance. The human heart cries out for unconditional love and acceptance. Sadly, most of us look for it everywhere except the one place it can be found: at the foot of the Cross. Even those of us who have accepted Christ as our Savior often struggle with the concept that we have truly been accepted just as we are. Of course, that doesn't preclude the need to live a Christ-honoring life once we have received that love and acceptance. As the old saying goes, God loves us just as we are, but He loves us too much to leave us that way.
And that's the whole point. As Ephesians 1:5-7 so simply and eloquently points out, it is God who has predestined us to be His children; He did it because it pleased Him to do so; the praise for that is due to His grace to us; and it is He who has accepted us in the Beloved.
Who is God the Father's Beloved? His Son, of course. We see that throughout the Scriptures, the gospels in particular. When we receive His Son as our Lord and Savior, God's Spirit comes to dwell in us, and we are then "hidden with Christ in God" (Colossians 3:3, NKJV). God no longer sees us or our sins when He looks at us; He sees only His Beloved Son, whose sacrifice He has fully accepted.
The next time you are tempted to believe God hasn't (or can't) fully accept you as you are, remember—when He looks at you, He sees Jesus. Rejoice in that acceptance, Beloved!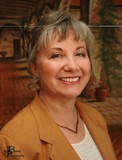 Kathi Macias, popular speaker and prolific author, is an Angel-award winning writer who has published nearly thirty books, including her latest releases, Mothers of the Bible Speak to Mothers of Today (New Hope Publishers) and My Son John (a novel from Sheaf House). Whether keyboarding her latest book, keynoting a conference, or riding on the back of her husband's Harley, Kathi "Easy Writer" Macias is a lady on a mission to communicate God's vision. Her insightful words—filled with passion, humor and soul nourishment—refresh audiences from all walks of life. Join Kathi as she hosts "Write the Vision" every Thursday from 6—7 p.m. (Pacific Time) via THE International Christian Network (www.theicn.com). To learn more about Kathi or to book her for your next event, visit www.KathiMacias.com. Spanish translations by Cynthia Alcantara ([email protected]).