The Hope that Doesn't Disappoint [Part 2]
Are you ready for some good news?
Gospel hope isn't rooted in present circumstances but in permanent identity.
Today's Texts: "But Joseph said to them, "Do not fear, for am I in the place of God? As for you, you meant evil against me, but God meant it for good, to bring it about that many people should be kept alive, as they are today.." (Genesis 50:19–21, ESV)
"Through him we have also obtained access by faith into this grace in which we stand, and we rejoice in hope of the glory of God." (Romans 5:2, ESV)
The whole narrative of Joseph is a drama of hope. His circumstances didn't determine his future destiny.
Paul informs us that only do we not grieve as the world does because we have hope, but we can truly rejoice. We do not just pretend that we don't have problems or that the world does not have evil, but truly rejoice – because hope can grow in us to such a point that our hope is what Paul says is in the glory of God.
We rejoice in the hope of the glory of God. In C. S. Lewis' brilliant tales, The Chronicles of Narnia, four ordinary kids who find themselves stumbling through a wardrobe into Narnia, an amazing kingdom of incredible adventures and great battles. They meet strange creatures like Mr. Tumnus the faun and Mr. and Mrs. Beaver, and they learn of Aslan, the Great Lion, who oversees it all.
Peter, Susan, Lucy and Edmund discover that in Narnia they are not ordinary. There they are dubbed kings and queens, and they lead the advancement of the cause of the Kingdom of Narnia under the authority of the Great Lion. And so the story that begins with The Lion, The Witch and the Wardrobe, is a story of conquering, of adventure, of their own greatness. It is a story of their discovery of their true identities as kings and queens in Narnia.
But at the end of the book, these kings and queens stumble back through the wardrobe into ordinary England. Suddenly, they are seemingly ordinary kids again.
That would have been the end of a glorious adventure if they hadn't decided to tell the professor about it all.
"And the professor, who was a very remarkable man, didn't tell them not to be silly or not to tell lies, but believed the whole story. … Eh? What's that? Yes, of course you'll get back to Narnia again some day. Once a King in Narnia, always a King in Narnia."
Here's the power of Christian hope: you might be wearing your drab clothes and once again seem to be insignificant little kids back in England.  It might be that nobody recognizes you as a king or queen; but the key to your continued rejoicing is to know who you are in the Kingdom of Narnia. Once a prince or princess in the kingdom of God, always a prince or princess. That's hope. And that's the Gospel!
---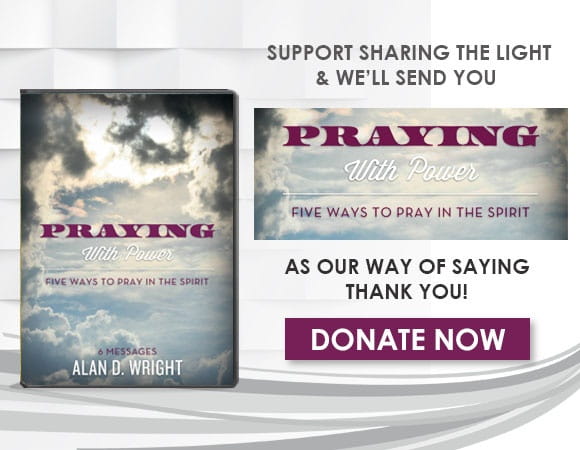 For more information please visit SharingtheLight.org.