From Dungeon to Dominion [Part 1]
Are you ready for some good news?
If you are being overlooked, God has grace for you to endure it; if you are being promoted, God has grace for you to embrace it.
Today's Text: "And Pharaoh said to Joseph, "See, I have set you over all the land of Egypt." Then Pharaoh took his signet ring from his hand and put it on Joseph's hand, and clothed him in garments of fine linen and put a gold chain about his neck." (Genesis 41:41-42, ESV)
Anne and I honeymooned at a fancy hotel in the New Orleans French Quarter courtesy of "The Price is Right" (yep, Anne was on the show, kissed Bob Barker and won the showcase). Neither of us had ever stayed in an upscale hotel and it showed. I was intimidated from the beginning because it was the first time I'd ever had a computer card for a room key (remember, this was 32 years ago). After finally figuring out how to get into the room, I was mesmerized by the fact that there was a TV even in the bathroom.
After a lovely dinner out, as I was vigorously trying to make the sliding key card work in the door, we heard a disturbing noise from within the room. It was the sound of voices! I double-checked the room number – yes, it was the correct room. I finally got the key card to work and said, "Stand back honey, I'm going in."
The door opened and, to my shock, the radio was playing. In fact, there was other evidence that someone had been in the room. The bed linens had been tampered with. We began looking to see if something had been stolen. Panicked, Anne insisted that I call the front desk. As I was explaining to the front desk clerk that someone had intruded into our room, I noticed mints on the pillow. How strange, I thought, that a crook would leave mints on our pillows.
Of course the front desk attendant explained that there was no cause for alarm, it was all part of their evening turn down service. I'm pretty sure I heard him muffling his laughter. If you've only stayed in Motel 6s, as I had until that point in life, it's hard to feel at home in a luxury high rise suite in the French Quarter.
There were many remarkable moments in Joseph's life  -- dreaming a great dream, resisting seduction, interpreting Pharaoh's dream, forgiving his brothers – but one moment fascinates me more than them all. When Joseph was summoned by Pharaoh to rule over Egypt, Joseph accepted the role without hesitation or fear. Really? He had been rejected by his family, sold into slavery, falsely accused and incarcerated for years. But, when the moment of honor comes, Joseph was ready.
We don't just need grace to endure the difficult times; we need grace to embrace the times of prosperity. If God promotes you, you don't have to say, "Aw shucks, why me? You probably ought to get someone else." When God puts you on a throne, you can take with confidence. And that's the Gospel!
---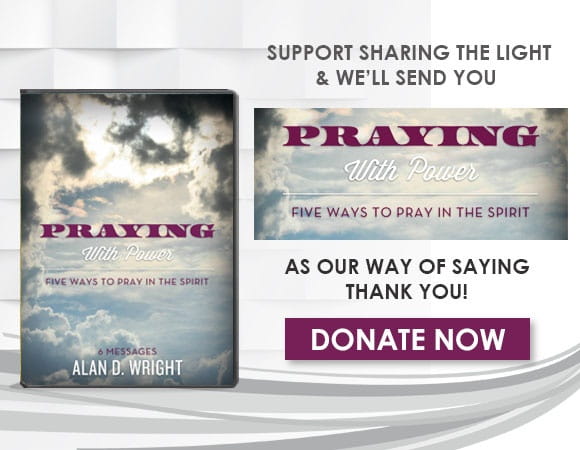 For more information please visit SharingtheLight.org.