The Death of Uzzah and the Dance of David [Part 3]
Are you ready for some good news?
You can come to the very throne of grace with no inhibition because of the work of Christ on your behalf!
Texts: "And the anger of the Lord was kindled against Uzzah, and God struck him down there because of his error, and he died there beside the ark of God. And David was angry because the Lord had broken out against Uzzah. And that place is called Perez-uzzah to this day." (2 Samuel 6:7–8, ESV)
"Let us then with confidence draw near to the throne of grace, that we may receive mercyand find grace to help in time of need." - Hebrews 4:16 (ESV)
For several days, we've been looking at one of the most scandalous stories in the Bible. David and the house of Israel were celebrating as they paraded to Jerusalem with the Ark of the Covenant. The oxen stumbled, Uzzah reached out to steady the ark, and he met his death.  David, in anger and fear, refused to take the ark into Jerusalem.
It's a story that non-Christians point to and say: "See, your God is capricious and bloodthirsty." Angry, law-loving Christians say, "See, God is holy and just. He punishes sin; you better not mess up." Other Christians just get embarrassed and pretend it's not in the Bible. So, why is the story of Uzzah recorded for us?
It's a story to wrench our hearts with the futility of our self-righteousness. It points us to our desperate need for the gospel of the grace of the Lord Jesus whose blood fully and finally atoned for the sins of the people. It's true: under the Old Covenant, you dare not get too close to God lest you die. God cannot and will not tolerate sin, even if it is well- intentioned. Uzzah seemed noble and religious – he was trying to protect the ark! But our best attempts to be good are utterly insufficient to cover our sin. The story of Uzzah points us to the New Covenant where the ark that was too holy to touch becomes the symbol of God's grace. In Jesus, you are made holy.
Once David saw that the ark's presence brought blessing, he brought it in to Jerusalemwith unbridled joy. That's a picture of the abundant Christian life. You need not fear getting near to God. Rejoice, you are welcome in the presence of the King. And that's the Gospel!
---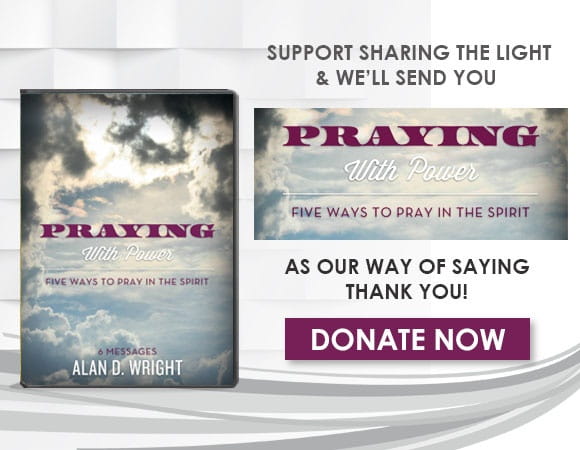 For more information please visit SharingtheLight.org.
Listen to the latest broadcast on OnePlace.com.