Forget the Duck [Part 1]
Are you ready for some good news?
In Christ you aren't mostly forgiven – you're fully forgiven.
Today's Text: "Therefore I tell you, her sins, which are many, are forgiven—for she loved much. But he who is forgiven little, loves little." And he said to her, "Your sins are forgiven."  (Luke 7:48, ESV)
The powers of hell can't condemn you, but the "father of lies" wages a constant campaign of deceit designed to haunt you as if you are condemned.
Johnny and his sister Sally were visiting their grandmother when one day, in his boredom, Johnny zinged a rock at the grandmother's pet duck in the backyard. Unfortunately for the duck (and ultimately for Johnny), the slingshot was quite accurate and strong. The duck fell over dead. Horrified and ashamed of his crime, Johnny quickly hid the duck. He had no idea that his sister had witnessed the whole scene… until that night.
After supper, the grandmother said, "Sally, it's your turn to do the dishes."
"Johnny's going to do the dishes tonight, Grandma," Sally responded.
Johnny was bewildered until Sally leaned over and whispered, "I saw what happened with the duck."
Johnny did the dishes.
The next night, the same conversation ensued. The grandmother told Sally it was her turn and she insisted that Johnny really wanted to do the dishes. Once again she whispered to him: "Remember the duck."
Sally held the duck over Johnny's head all week until, finally, an exasperated Johnny cried out: "Dead duck or not, I'm not doing your chores any more!" When he confessed the whole thing to his grandmother she laughed and declared: "I knew you killed that duck all along; I was just waiting to see how long you'd let your sister threaten you!"
One of the greatest obstacles to spiritual growth and lasting joy is disbelief in the totality of God's forgiveness. You know you have sinned and you know that the gospel assures that you are forgiven. But most Christians still hear a little voice reminding them of their failings. The news of the gospel is only good if the sacrifice of Christ cleanses all our sins, not just most of our sins. The invitation of God is not just to receive His forgiveness – it's also an invitation to forget the duck. And that's the gospel!
---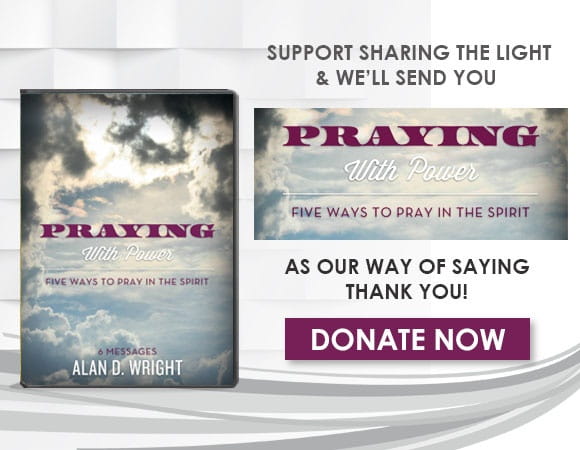 For more information please visit SharingtheLight.org.