Who Wouldn't Want to Be Led by the Spirit? [Part 2]
Are you ready for some good news?
The Lord, the Creator of the ends of the earth, has a beautiful plan for your life and He wants to guide you in it everyday!
Today's Text: "For all who are led by the Spirit of God are sons of God." (Romans 8:14, ESV)
As we continue to learn about being led by the Spirit, it is important to identify the obstacles to hearing God properly. One obstacle to being led by the Spirit is a distorted self-image. On the one hand, we need to know that we are sinners in the sight of God, justly deserving his displeasure and without hope except in his sovereign mercy. That is true. But the gospel announces to us that our salvation is not in our own righteousness; our salvation is in the righteousness of Jesus. When you are in Christ, you are no longer labeled by God as a miserable sinner; you are called a saint. If our minds have a filter of distorted thinking about our life, our past, or our place in the world, we will distort what we hear.
Shame-based mentalities can distort what we hear. For example, early in our marriage, I struggled with misinterpreting my wife's words at times. She might say, "Alan, the trash needs to go out," and I found myself bothered. Why? It was agreed that I was the trash man. It was my job. If the trash needed to go out, why was I bothered by the reminder? Eventually, I realized that when Anne said, "The trash needs to go out," I unconsciously concluded the sentence with the words "… and if you were a better, more thoughtful husband, you would have taken it out already." Those weren't her words or he thoughts, but, filtered through a shame mentality, it's what I heard.
If our emotional wounds can cause us to misunderstand others' words, you can imagine practicing the same misunderstanding of God's word. People who have a shame filter hear every word at church and read every page of the Bible as if it is saying, "You are not good enough yet."
The truth is that, resting in the finished work of Jesus, I am clean and free. Though I stumble and though I need to grow, I am accepted in the beloved and living out of that assurance. The more that we are healed, the more we will discern the leading of the Spirit. Think much of the love and mercies of God for you that your soul might be healed. God's with you. God's leading you. You can recognize His gracious leading everyday. And that's the Gospel!
---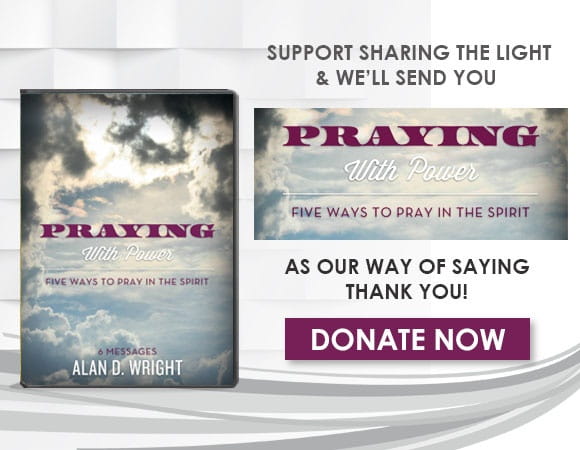 For more information please visit SharingtheLight.org.