Who Wouldn't Want to Be Led by the Spirit? [Part 1]
Are you ready for some good news?
You can be led by the Spirit of the living God every day of your life! The Creator of the ends of the earth, Who knows everything about you and wills only the best for your life is eager to guide your steps.
Today's Text: "For all who are led by the Spirit of God are sons of God." (Romans 8:14, ESV)
There is no clear list within the Scriptures of the steps to hearing the voice of God. There is no practical hint on discerning the will of God. There is nothing like that in this the Bible because the assumption and implication everywhere in the Scriptures is that the sons of God will be led by the Spirit of God. Being led by God isn't a matter of technique; it is a matter of relationship with the Father. As we grow in our relationship with God, we learn to discern His voice and be led by the Spirit.
We see examples of people learning to be led by the Spirit throughout Scripture. In Acts 16, Paul's traveling companions are looking for the next place to preach the gospel. "When they came to the border of Mysia, they tried to enter Bithynia, but the Spirit of Jesus would not allow them to." (Acts 16:7)
How did the Spirit "not allow them to?" We aren't told. Perhaps they simply didn't have peace as they proceeded – what some call getting a "check" from the Holy Spirit. Perhaps God spoke more directly to them through a dream or a vision. Perhaps they had a prayerful discussion and they concurred by a common, inner witness. The important thing for us to know is not "how" they received direction from God, but how important it was to God to give them direction. The Lord is utterly for you taking the right path. Your steps are ordered of the Lord.
You might have an important decision right now that you are trying to make. Some of us go through times in which we simply feel confused. But God is not the author of confusion. The Spirit does not always tell us everything that we want to know, but He will tell us everything we need to know. When you have a relationship with the Father through the presence of the Holy Spirit, you grow in the depth to which you can be led. You can be led by the Spirit. And that's the Gospel!
---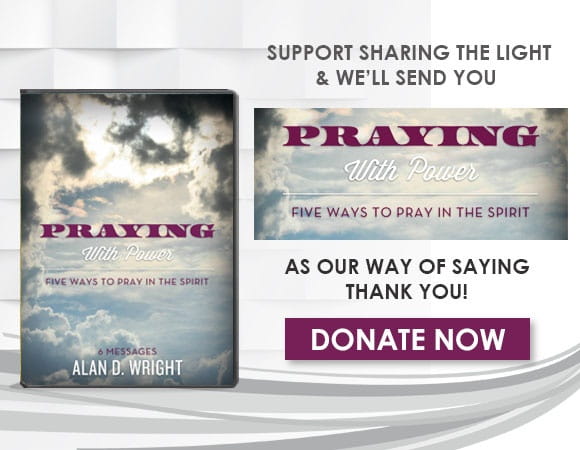 For more information please visit SharingtheLight.org.