Fruit and Gifts [Part 2]
Are you ready for some good news?
You can't manufacture fruit of the Spirit, but you sure can plant good seed.
Today's Text:
"But the fruit of the Spirit is love, joy, peace, patience, kindness, goodness, faithfulness, gentleness, self-control; against such things there is no law." (Galatians 5:22–23, ESV)
"Do not be deceived: God is not mocked, for whatever one sows, that will he also reap." (Galatians 6:7, ESV)
In our denomination, pastors undergo a rigorous examination process before they can be ordained. As a first step, the candidate for ordination shares his or her testimony before the assembly of elders and pastors (the Presbytery). I'll never forget the hilarious testimony of a candidate named Howard.
Howard was an intellectual and he had a voice that matched. He spoke carefully with distinctive diction and careful enunciation. As he began his testimony, Howard said: "When I was a child, my parents had big plans for me. My mother wanted me to be a doctor. My father wanted me to be a lawyer. But I chose a different path and decided to become a drug addict instead."
The Presbyters (including me) buckled over in laughter. Why? Because, of course, it just sounds so silly to for anyone to say that he chose to become a drug addict. But, at the same time, the awful irony is that Howard was utterly responsible for his early drug problem, wasn't he?
It sounds ridiculous to speak of choosing an utterly negative or futile life because, in fact, people don't choose such fruit – they choose the seed. Howard didn't actually choose to be a drug addict; he chose to use addictive drugs. He chose to satisfy a craving of the flesh for a momentary "high." He didn't really wake up one morning as a little boy and say to himself, "Boy, it would be wonderful to become hopelessly addicted to drugs that endanger my life and prevent me from having meaningful relationships or work." But he did choose to sow to the flesh.
People don't choose bad fruit; people choose bad seed. No one chooses coronary disease, but plenty choose potato chips. No one chooses obesity, but we certainly can choose the Ben and Jerry's.
When it comes to the fruit of the Spirit, Paul says you have a choice. You can sow into the flesh or you can sow into the Spirit. When you sow into the Spirit, you'll reap from the Spirit! And that's the Gospel!
---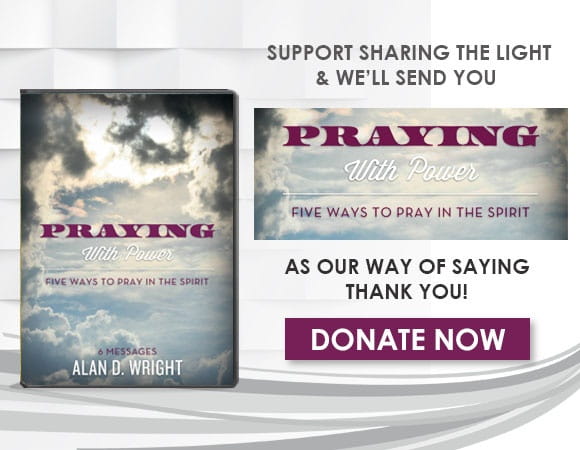 For more information please visit SharingtheLight.org.
Listen to the latest broadcast on OnePlace.com.