He Has Spoken in Christ [Part 1]
Are you ready for some good news?
Once and for all, God has expressed Himself fully in Christ Jesus.
Today's Text: "Long ago, at many times and in many ways, God spoke to our fathers by the prophets, but in these last days he has spoken to us by his Son, whom he appointed the heir of all things, through whom also he created the world (Hebrews 1:1–2, ESV)
As a young Christian, the epistle to the Hebrews intimidated me. It seemed esoteric, beyond reach. The Old Testament references and the temple/priesthood allusions seemed indecipherable. But, what I once avoided, I now savor. In many ways, Hebrews is the New Testament key to understanding the entirety of God's Word.
As we embark on a new radio series on the letter to the Hebrews, prepare for spiritual riches. The epistle is deep, but it is not difficult to grasp.
The writer of the letter begins with a triumphant note that sets the tone for the entire epistle. God has been revealing Himself throughout history. He has spoken in various ways through prophets but now God has spoken in an altogether superior way. He has spoken to us by his Son.
The good news of Hebrews begins with a pearl that could be easily overlooked. God has spoken. The Creator, the final authority on all matters of life and death, has spoken. There can be no speculation or lingering question about the answer to life's deepest mysteries because the Authority has spoken.
I've been in many hospital surgical waiting rooms, accompanying worried families whose loved one is in the operating room. There is much wondering, speculation, contemplation and conversation about the surgery – it's duration, it's risks, it's prospects of healing the patient. But when the call comes into the waiting room and a family member answers it, everything changes. "It was the surgeon," the family member reports. "He said all went well."
The entire climate changes when the authority has spoken. When the one person whose report matters has spoken, it silences all speculation. When the one authority whose opinion has ultimate say-so has spoken, it overwhelms every other opinion.
It is God's word that matters. God has spoken. He didn't have to speak. He could have chosen to remain silent. But He has spoken once and for all in Christ. It means that everything that you need to know about God, redemption and hope for the future is found in Christ. It means the entirety of the Bible is about Jesus. It means if you didn't have anything else but Jesus you would have all you need. God has spoken in Christ. And that's the Gospel!
---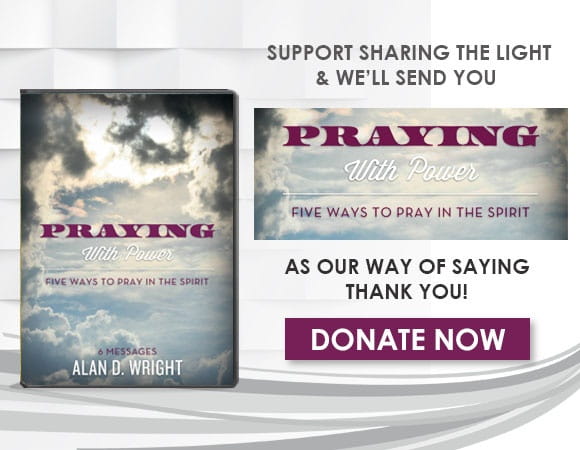 For more information please visit SharingtheLight.org.
Listen to the latest broadcast on OnePlace.com.