Praying Pure Word [Part 2]
Are you ready for some good news?
When you pray the Word of God, you are praying powerfully in the Spirit, which means, you are praying according to God's will!
Today's Text: "and take the helmet of salvation, and the sword of the Spirit, which is the word of God, praying at all times in the Spirit, with all prayer and supplication. To that end, keep alert with all perseverance, making supplication for all the saints," (Ephesians 6:17–18, ESV)
Paul's exhortation to pray in the Spirit "at all times" makes clear the pathway to a powerful prayer life. Prayer is only effective to the extent it is prayer "in the Spirit". While some theological circles have asserted that praying in the Spirit comes only via the spiritual gift of tongues, there are certainly other ways in which we can pray in the Spirit.
Perhaps the most powerful form of praying in the Spirit is praying the pure Word of God. Because all scripture is God-breathed, all of God's Word is full of the Spirit. There is no divorce in God's mind between the Word and the Spirit. So, when you pray the scriptures, you are praying what the Spirit has inspired. Praying God's Word is, therefore, praying in the Spirit.
One of the reasons that praying God's Word is so powerful is that scriptural prayer is aligned with God's will. John assures us in his first epistle: "… if we ask anything according to his will he hears us. And if we know that he hears us in whatever we ask, we know that we have the requests that we have asked of him." (1 John 5:14–15, ESV) God will never be persuaded to violate His own will that is always laden with good intentions toward His children. If a cocaine addict asks God for more cocaine, I trust that the Lord will by no means grant the poisonous request. But, when you return God's own promises to Him, you can be certain that you are praying in alignment with God's own heart.
Renowned 19 century evangelist D.L. Moody put it well: "Prayer does not mean that I am to bring God down to my thoughts and my purposes, and bend his government according to my foolish, silly, and sometimes sinful notions. Prayer means that I am to be raised up into feeling, into union and design with him; that I am to enter into his counsel and carry out his purpose fully."
You can pray in the Spirit at all times by rooting your prayer life in the Word of God. And when you do, you can be assured that you are profoundly connected with God's own heart. God has ordained that, through your prayers, He will perform what He has already promised in His Word to you. And that's the Gospel!
---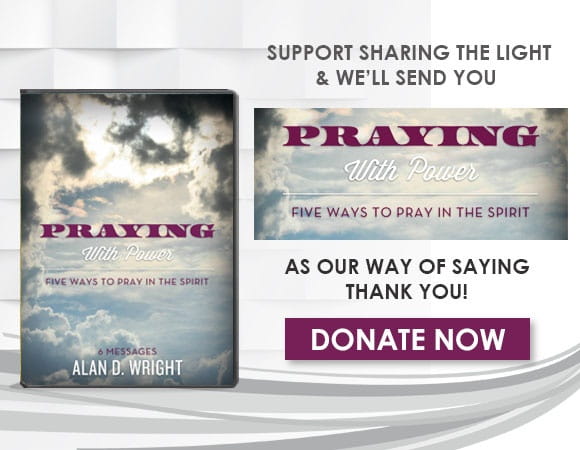 For more information please visit SharingtheLight.org.
Listen to the latest broadcast on OnePlace.com.