The Three Crosses [Part 1]
Are you ready for some good news?
In the words of classic preacher, Charles Spurgeon: If a dying Saviour saved the thief, my argument is, that he can do even more now that he liveth and reigneth.
Today's Text: "One of the criminals who were hanged railed at him, saying, 'Are you not the Christ? Save yourself and us!' But the other rebuked him, saying, 'Do you not fear God, since you are under the same sentence of condemnation? And we indeed justly, for we are receiving the due reward of our deeds; but this man has done nothing wrong.' And he said, 'Jesus, remember me when you come into your kingdom.' And he said to him, 'Truly, I say to you, today you will be with me in Paradise.'" (Luke 23:39–43, ESV)
As we draw to the end of our series about how to have faith and freedom without trying to, we come to a dramatic final image. As Jesus hung dying the most shameful and painful death imaginable, he was flanked by two criminals.
The whole of scripture tells a story about the contrast between those who miss God's grace and those who receive it. Those who miss grace hate grace. They want to make deals with God, hold the law supreme, and operate by shame and manipulation. Those who live by grace come to the realization that they cannot save themselves. They can't feed themselves,deliver themselves, ordo anything for themselves. All they can do is receive God'sgrace.
At the agonizing close of Jesus' life on earth, it was as though God wanted to make this point brazenly clear. There were three crosses, with Jesus in the middle and two kinds of men on His left and right: a man characterizing ungrace and shame, and a man characterizing the lavish, unmerited favor of God.
There, in the center of those crosses, was the Christ, with His arms stretched towards each thief, as if in love to announce, I want you each in my Kingdom. One man thought shame and manipulation would move the Messiah. He died apart from Christ. The other criminal knew that only grace can save. He lives now with Jesus.
And that's the gospel!
---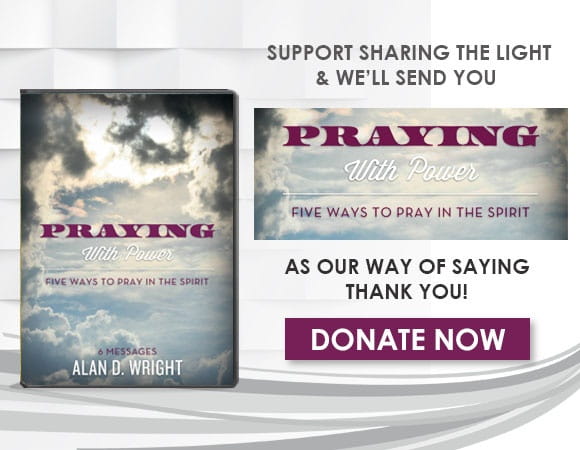 For more information please visit SharingtheLight.org.
Listen to the latest broadcast on OnePlace.com.