Why Wouldn't Everyone Want to Pray in the Spirit [Part 1]
Are you ready for some good news?
When you don't know how to pray or what to pray or in what manner to pray, take heart; the Holy Spirit will help you.
Today's Text: "…praying at all times in the Spirit, with all prayer and supplication. To that end, keep alert with all perseverance, making supplication for all the saints…." (Ephesians 6:18,)
Some theological circles have proposed that "praying in the Spirit" refers solely to praying via the gift of tongues. While I believe that tongues is a good gift that should be sought, appreciated and used with joy, it isn't the only means of "praying in the Spirit." Not all have the gift of tongues, but Paul calls all to "pray in the Spirit." In coming days, we'll learn more about the variety of ways we can pray in the Spirit.
The beginning of understanding what it means to pray in the Spirit is accepting Paul's words: "We do not know what we ought to pray for…." Romans 8:26
When Jesus asked His disciples to pray in Gethsemane, they fell asleep. The account of the story in Luke's Gospel says that the disciples were "exhausted from sorrow" (Luke 22:45). Jesus had been explaining to them in many different ways that the Son of Man would be handed over to authorities. He would be crucified. He would die. They had hoped that Jesus would establish a powerful, political reign, but now they were witnessing their leader in terrible pain in His soul. They were sorrowful because they felt everything slipping away from them, and they were exhausted by their sorrow.
The problem for all of us is the same as it was for the disciples: If you are despondent, discouraged and confused, you have a hard time praying. By the same token, sometimes when you are happy and life is good, you hardly know how to thank Him or what to seek. The Holy Spirit is here to help us. As you are continually filled with the Spirit, He reminds you of who you are as a child of God. He encourages the believer and thus strengthens the child of God to pray to the Father expectantly. The Holy Spirit is the One who helps us in our weakness, showing us how to pray. And that's the Gospel!
---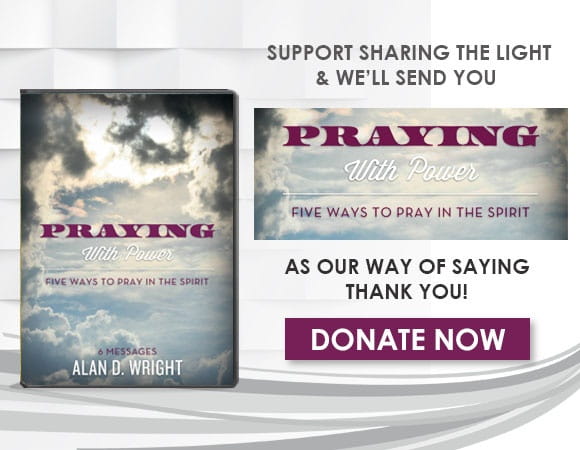 For more information please visit SharingtheLight.org.