God's Sovereign Plan
By: Amanda Idleman
The Lord of hosts has sworn: "As I have planned, so shall it be, and as I have purposed, so shall it stand." – Isaiah 14:24
As you read through Isaiah, you are clued into the nature and character of God through the prophetic gift given to Isaiah. Isaiah's mouth is filled with words that paint a picture of what God has planned for the future. He clearly articulates God's many emotions when it comes to His people. All of the prophecies from Isaiah became verifiable, historical fact.
Through the miraculous fulfillment of prophecy, we can see the absolute dependability of God's plan. We can rest assured that no matter our present situation, we can stand on the promises of God who articulated them in His Word. In our most hopeless moments, we can draw encouragement from the sovereignty of our Lord.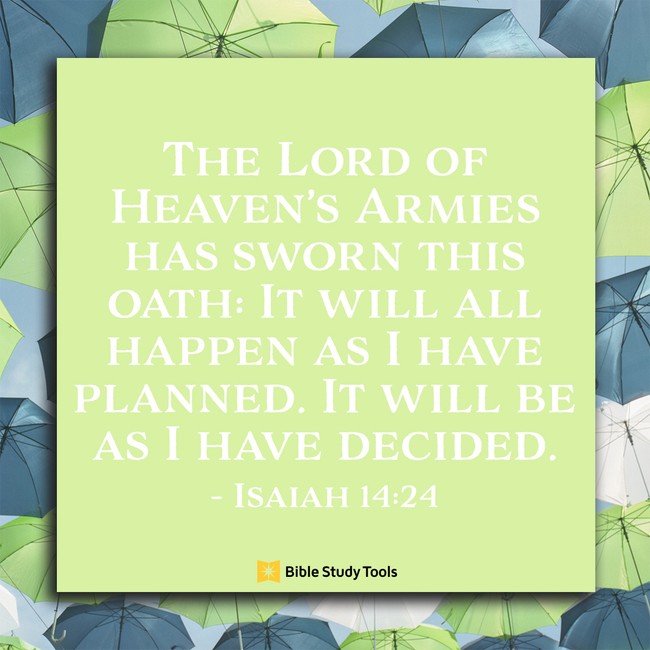 God has a plan. He is not distant and uninvolved in the happenings of our world. We may look at world events and see random occurrences. We may become overwhelmed by your own powerlessness to change the tide of our society. But God does not see randomness, and He has the power to change things that feel impossible to us.
In Isaiah, God warns Israel from relying on the surrounding nations for security. God's plan went against what seemed like a logical solution to the Israelites. He warned that the two major powers in the region, Assyria and Babylon, would fall despite appearing to be unbeatable forces in the region. These prophecies were fulfilled when the Assyrian Empire was crushed by Babylon. Later, as prophesied by Jeremiah, Babylon fell too.
The Israelites who heard these prophecies for the first time probably were skeptical and doubted God's power over the forces that appear to rule our world. Yet, God's Word has proven to be reliable over the course of history. When we see what feels like confusing and unbeatable challenges, rest assured in God's sovereign plan for our world.
Just as God's plan for the nations are fulfilled, so are God's plans for our lives. Jeremiah 29:11 gives us this personal encouragement, "For I know the plans I have for you," says the Lord. "They are plans for good and not for disaster, to give you a future and a hope." This is a promise you can stand on. God's plan is a good one. Even when evil attempts to steal from us: God is present, He is working, He is faithful, and He is good.
Isaiah 43:1 tells us even more about God's reliability. He makes a beautiful promise and offers us words of encouragement for our moments of difficulty and doubt. God says, "Do not be afraid, for I have ransomed you. I have called you by name; you are mine." The Creator, Sovereign God of all knows it's easy to be afraid. That's why He so clearly offers us words of comfort and assurance. Our Big God identifies us as His. He is close, He is personal, and He is for you. Rest in the knowledge that we serve a sovereign God.
---
Amanda Idleman is a writer whose passion is to encourage others to live joyfully. She writes devotions for the Daily Bible Devotions App, she has work published with Her View from Home, also for the MOPS Blog, and is a regular contributor for Crosswalk.com. You can find out more about Amanda on her blog or follow her on Instagram.
Subscribe to the Your Daily Bible Verse podcast!