EDITOR'S NOTE: We're happy to announce that, coming soon, this devotional will be available in audio version as the Your Daily Bible Verse Podcast! Stay tuned for updates...
BIBLE VERSE OF THE DAY: "He said: 'LORD, the God of Israel, there is no God like you in heaven or on earth—you who keep your covenant of love with your servants who continue wholeheartedly in your way.'" - 2 Chronicles 6:14
The Master Musician
By Jack Graham
Heavenly father, you are the artist and we are the instrument. Through your hands all things are possible. Amen.
Several years ago, a noted violinist was playing a concert to a very prominent crowd. He walked out on stage and showed the audience his violin. He told them, "This violin is a Stradivarius, one of the rarest and most valuable violins in the world."
The violinist then proceeded to play one of the most beautiful tunes the audience had ever heard on his violin. But after he was finished and the crowd had applauded heartily, he took that violin and broke it into a thousand pieces.
A collective gasp could be heard throughout the auditorium. So after a few moments of silence, that violinist said, "That wasn't actually a Stradivarius violin. I bought it today at a pawn shop for 40 dollars. But I did this to make a point: the violinist is much more important than the violin." With that, he brought out the real Stradivarius and finished his concert.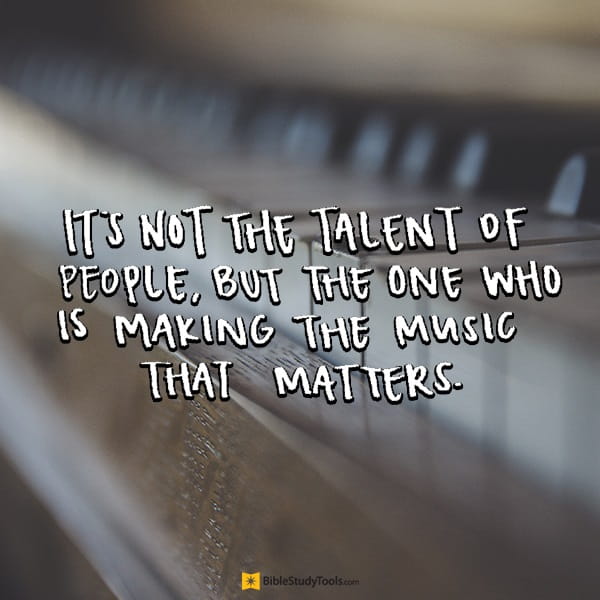 What's true in music is true with people. It's not the talent or charisma of people, but the one who's making the music that matters. I realized long ago that I was just an old violin… completely inadequate on my own. But in the hands of the Master, He can make beautiful music in both my life and yours as well!
*Editor's Note: The following article was adapted from How God can Turn Your Mess into a Masterpieceby Jack Graham. To read the original devotional, follow this link.
Want to go beyond a minute in the Word today? Continue over to BibleStudyTools.com!
Teach Us to Pray is a FREE prayer podcast hosted by iBelieve writer Christina Patterson. Each week, she gives you practical, real-life tips on how to grow your faith and relationship with God through the power of prayer. To listen to her episode on What to Pray in the Morning for a Worry-Free Day, click below!


Now that you've prayed, are you in need of someone to pray for YOU? Click the button below!
Visit iBelieve.com for more inspiring prayer content.