Refined into His Image
By Mary Southerland
"He will sit as a refiner and purifier of silver." – Malachi 3:3 (NIV).
The story is told of a group of women who met each week to study the Bible, hoping to learn more about the nature and character of God and how He works in our lives. The women were puzzled and even a little troubled by the description of God they found in Malachi 3:3, "He will sit as a refiner and purifier of silver." One of the women offered to do a little research on the subject and report back to the group at their next meeting.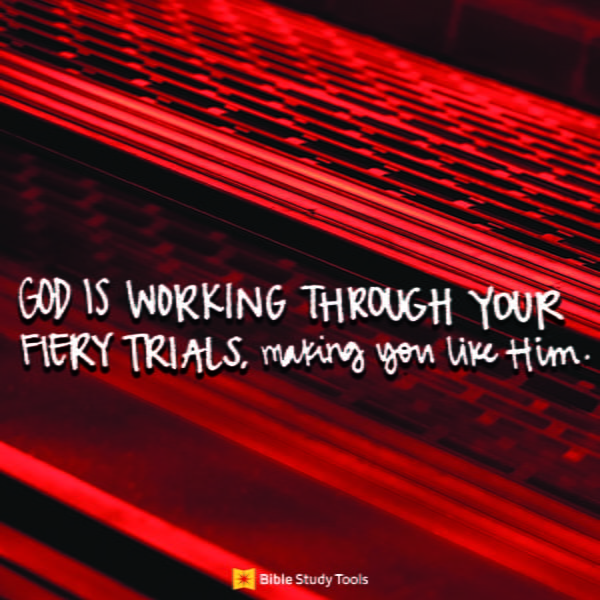 The woman found a local silversmith and made an appointment to observe him at work, explaining that she was particularly interested in the process of refining silver. She watched as the craftsman carefully selected a piece of silver for his demonstration. She thought the piece of silver was already beautiful but evidently the silversmith saw something that she could not see. As he held the silver over the furnace, the craftsman explained that in refining silver, the silver had to be placed in the middle of the fire where the flames were hottest so all of the impurities would be burned away.
The woman was silent for a moment as her thoughts drifted to the fiery trials she was facing in her own life. Honestly, she did not get it. Why would a loving God allow His children to suffer when He could so easily deliver them? In fact, why does God even allow bad things to happen to people who are seeking Him and really trying to live for Him?
The woman asked the silversmith if it was true that he had to sit in front of the fire the whole time the silver was being refined. "Oh, yes!" he replied. "I cannot take my eyes off the silver. If it is left in the furnace even a moment too long, it will be destroyed." The woman suddenly understood the beauty and comfort of Malachi 3:3, "He will sit as a refiner and purifier of silver."
Yes, there are times when it seems as if we will be swallowed whole by the fires of Hell itself. The pain seems too hard to bear. The fear is paralyzing. The doubt is overwhelming.
Is God really who He says He is?
Will He really do what He says He will do?
Will He really keep His promises?

Our trials are not random persecutions. Heaven is not in a panic. Where we are and what we are going through is no surprise to God. We may be knocked down and kicked around by life, but if we have a personal relationship with Jesus Christ, we will not be destroyed.

I know and accept the truth that trials and hard times make me stronger and strengthen my faith, but there are times when I want it all to stop. I find myself asking, "How much is enough, Lord? How many trials do I have to endure? When will the pain and trouble end?"

"How do you know when the silver is fully refined?" the woman asked. The silversmith smiled and answered, "Oh, that's easy. The refining process is complete when I can see my image reflected in the silver."


God is not committed to our comfort. He is committed to our character. Only God can exchange the ashes of our sin for the beauty of His forgiveness and grace. God alone can replace our despair with His peace that passes all understanding. Hope can only be found in Him.
Adapted from the original Girlfriends in God devotional, "In His Image". You can read the devotional in full here. To learn more about Girlfriends in God, visit GirlfriendsinGod.com.
We want to experience God through the Bible… we really do!
But our good intentions fall flat when reading the Bible just doesn't seem to help us experience God in a real way. What should feel alive often feels confusing and boring and irrelevant. But it doesn't have to.
In the How to Study the Bible podcast, pastor and Bible teacher Nicole Unice brings life back to reading the Bible by walking listeners through her Alive Method of Bible study, helping us personally encounter God through his Word by giving us a practical, clear road map for understanding, interpreting and applying Scripture to our lives. Just click below to start listening now!