God Can Build The Family
Earlier we have looked at Psalm 127:1-2 which says,
Unless the LORD builds the house, they labor in vain who build it; unless the LORD guards the city, the watchman stays awake in vain.  It is vain for you to rise up early, to sit up late, to eat the bread of sorrows; for so He gives His beloved sleep.
The Hebrew word for house in verse one can actually be translated family.  That is one reason why the next few verses (3-5) read like this,
Behold, children are a heritage from the LORD, the fruit of the womb is a reward.  Like arrows in the hand of a warrior, so are the children of one's youth.  Happy is the man who has his quiver full of them; they shall not be ashamed, but shall speak with their enemies in the gate.
If you have sat up late, worrying about your children or your family, you need to know that God can turn things around.
Trust Him to build and protect your family.  Do your part, but look to Him for guidance and strength.  And trust Him to do what you cannot do.
He can cause your "arrows" to be effective against the enemy instead of wounding your own heart.
May you be happy with your quiver of "arrows," and may God be glorified in your family. 
---
Visit the Answers with Bayless Conley website for more ways to connect with God.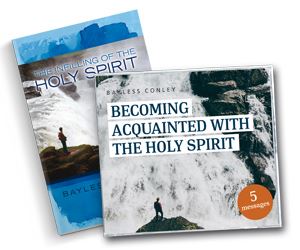 Know God in a deeper way!
The Holy Spirit's presence brings hope, joy, and comfort; and He longs to walk in deep fellowship with you every day.
We want to help you experience a more intimate friendship with God, by sending you the Knowing the Holy Spirit package.
It includes Bayless Conley's The Infilling of the Holy Spirit  booklet and his powerful 5-message series called Becoming Acquainted with the Holy Spirit.
It includes:
The Presence, Power, and Person of the Holy Spirit DVD
Expecting the Holy Spirit's Help DVD
Evidence of a Spirit-Filled Life CD
The Holy Spirit's Work in Our Hearts CD
Bayless Conley unpacks the benefits and evidences of being filled with the Spirit of God.
Find out what it means to live a Spirit-filled life!