The Cart Before the Horse
by Berni Dymet
Proverbs 14:31 Those who oppress the poor insult their Maker, but those who are kind to the needy honor him.
I wonder sometimes whether we Christians don't get things the wrong way round. You know - the cart before the horse.
We "do church" the way we've always done church. Why? Well, because, we've always done it that way. And the way we "do church" kind of shapes the way we reach out to people - something the "Experts" call our mission. And then, the way we do "mission" - I think - shapes the way we see Jesus… from our nice, tidy little pews all neat in a row.
The first time I read about Jesus - I was shocked. What I discovered was someone who turned the world upside down. Who healed lepers and hung out with prostitutes and tore into the hypocrisy of the religious establishment.
So I got to thinking what if we turned things around. What if our understanding of this wild radical Jesus, shaped the way we reach out to people. And what if the way we reach out to people determined how we do church?
What would church look like then?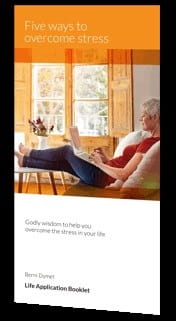 Your FREE eBooklet - "Five Ways to Overcome Stress"
The alleviation of stress is the number one felt need in society today. More than a half of all visits to the doctor are stress related. How about you? On a scale of zero to ten, how "stressed out" are you? There will always be pressures in life. That's a given. But stress is actually our response to those pressures and as such, it's something that, with God's help, we can overcome. That's what our latest Life Application Booklet is all about: Five Ways to Overcome Stress. We would absolutely love to send you your very own FREE copy to help you experience God's peace, in the middle of the pressures in your life.