Unimpressive Faith
by Berni Dymet
 
James 2:14, 17 What good is it, my brothers and sisters, if you say you have faith but do not have works? Can faith save you? .... So faith by itself, if it has no works, is dead.
Faith.  It's a nice thing to have isn't it? It has a pleasant ring to it. And so what we want to do is we want to have it like … like a trophy. We polish it up, put it in the glass cabinet, we admire it, we think to ourselves - "Yep.  That's it.  I have faith."  Maybe even show the odd friend or two.  
But here's the thing. Unless we put it into action, it's not really faith at all. Unless we use our faith out there in the heat of the battle, out there where it really counts, in the places we'd rather not find ourselves, in the tight spots, the binds, the confronting, even scary situations that we wouldn't have chosen for ourselves - unless we deploy our faith out there, it's dead.
Jesus said if we have faith the size of a mustard seed, we can move mountains. I tell you, it's just as well - because my little mustard seed of faith, it looks so unimpressive up there in my display cabinet.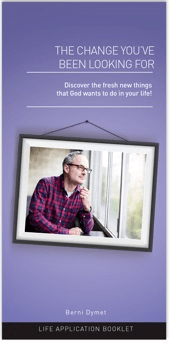 Your FREE eBooklet - "The Change You've Been Looking For"
So many people yearn for a better life, which is why "self-improvement" is a multi-billion dollar industry. But the truth is, it doesn't work, because the big changes, the truly important changes, are impossible to achieve on your own. That's why Jesus came. So if you want to lay hold of the "super-abundant" life that He promised (John 10:10) download this free eBooklet, because that's what it's all about. The change you've been looking for!