I Don't Know What to Do
by Berni Dymet
 
2 Chronicles 20:15 Listen, all Judah and inhabitants of Jerusalem, and King Jehoshaphat: Thus says the LORD to you: "Do not fear or be dismayed at this great multitude; for the battle is not yours but God's.
Have you ever run into a brick wall, a situation - and thought "I just don't know what to do"? I think we all have. We should know -at least we think we should, but we just don't. And it's scary.
There was a King of Israel - Jehoshaphat, who had a massive army coming against him with completely overwhelming odds. This is what it says in 2 Chronicles Chapter 20 - Jehoshaphat was afraid - he set himself to seek the Lord. And He says to God: we are powerless against this great multitude… We don't know what to do, but our eyes are on you.
So God gave Him the answer, God told him what to do. We either think we have to do it all and if we can't, we're failures or we imagine that God's going to do it all. But neither of those is correct. 
See it turns out that God, well, He does the things we can't, and He expects us to do the things we can. You know, when you think about it, it makes an awful lot of sense.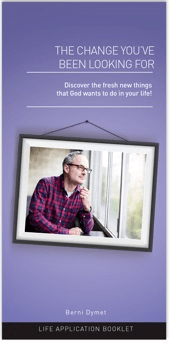 Your FREE eBooklet - "The Change You've Been Looking For"
So many people yearn for a better life, which is why "self-improvement" is a multi-billion dollar industry. But the truth is, it doesn't work, because the big changes, the truly important changes, are impossible to achieve on your own. That's why Jesus came. So if you want to lay hold of the "super-abundant" life that He promised (John 10:10) download this free eBooklet, because that's what it's all about. The change you've been looking for!