Just Grow Up
by Berni Dymet
James 1:2-4 … whenever you face trials of any kind, consider it nothing but joy, because you know that the testing of your faith produces endurance;  and let endurance have its full effect, so that you may be mature and complete, lacking in nothing.
It's just amazing how our children grow up. Before you know it, this little two year old who was throwing a temper tantrum on the floor, becomes a twenty-two year old and then a thirty-two year old - and as a parent, it's an incredible thing to watch your child mature and grow up through the school of hard knocks.
But some people never grow up. You can be thirty-two, forty-two … seventy-two and still throw a temper tantrum. They say that before you can be old and wise, you have to be young and stupid. Been there, done that. 
But old and stupid - now that's ugly. 
Here's the point - a person can go to church - well, all their lives - and still never grow up. What a waste of time. They could've played golf on Sunday mornings instead. 
And if we're honest - if we look in the mirror, we've all got some growing up to do. You have and I have. So - let's go. Let's get on with it. Let's just - grow up!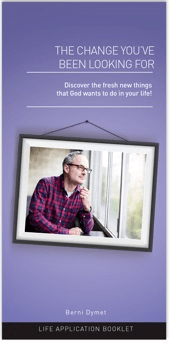 Your FREE eBooklet - "The Change You've Been Looking For"
So many people yearn for a better life, which is why "self-improvement" is a multi-billion dollar industry. But the truth is, it doesn't work, because the big changes, the truly important changes, are impossible to achieve on your own. That's why Jesus came. So if you want to lay hold of the "super-abundant" life that He promised (John 10:10) download this free eBooklet, because that's what it's all about. The change you've been looking for!