Winner or Loser?
by Berni Dymet
Rom. 8:35-37 Who will separate us from the love of Christ? Will hardship, or distress, or persecution, or famine, or nakedness, or peril, or sword? As it is written, "For your sake we are being killed all day long; we are accounted as sheep to be slaughtered." No, in all these things we are more than conquerors through him who loved us.
Let me ask you: when you look in the mirror each morning, what do you see? A winner or a loser? 
Good times, bad times - they come and go. That's life. But so many people, so many, feel that they're not "winning" at life. 
A man called Paul - an Apostle, lived a couple of thousand years ago - he went through some amazing trials. Hardship, distress, persecution, famine, nakedness, peril, sword - his very life was constantly at risk. And then, writing to his friends in Rome - this is what he has to say about this long list of trials: - he says "in all these things we are more than conquerors through him who loves us."
The world out there wants you and me to believe that winning is solving all our problems. Removing the source of pain. But Paul knew that wasn't true - he discovered that right in the middle of all those things, he wasn't just a conqueror, but more than a conqueror - because of the love of God in His heart.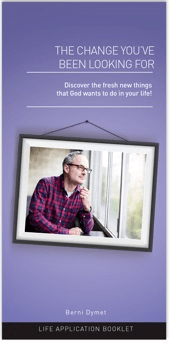 Your FREE eBooklet - "The Change You've Been Looking For"
So many people yearn for a better life, which is why "self-improvement" is a multi-billion dollar industry. But the truth is, it doesn't work, because the big changes, the truly important changes, are impossible to achieve on your own. That's why Jesus came. So if you want to lay hold of the "super-abundant" life that He promised (John 10:10) download this free eBooklet, because that's what it's all about. The change you've been looking for!