Winner or Loser?
by Berni Dymet
Rom. 8:35-37 Who will separate us from the love of Christ? Will hardship, or distress, or persecution, or famine, or nakedness, or peril, or sword? As it is written, "For your sake we are being killed all day long; we are accounted as sheep to be slaughtered." No, in all these things we are more than conquerors through him who loved us.
Let me ask you: when you look in the mirror each morning, what do you see? A winner or a loser?
Good times, bad times - they come and go. That's life. But so many people, so many, feel that they're not "winning" at life.
A man called Paul - an Apostle, lived a couple of thousand years ago - he went through some amazing trials. Hardship, distress, persecution, famine, nakedness, peril, sword - his very life was constantly at risk. And then, writing to his friends in Rome - this is what he has to say about this long list of trials: - he says "in all these things we are more than conquerors through him who loves us."
The world out there wants you and me to believe that winning is solving all our problems. Removing the source of pain. But Paul knew that wasn't true - he discovered that right in the middle of all those things, he wasn't just a conqueror, but more than a conqueror - because of the love of God in His heart.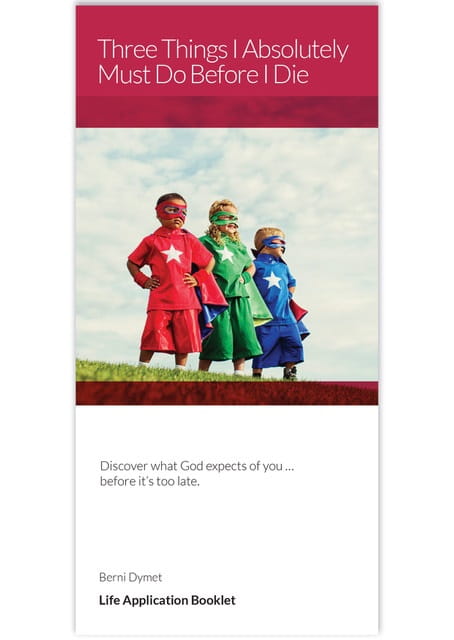 YOUR FREE BOOKLET – THREE THINGS I ABSOLUTELY MUST DO BEFORE I DIE
Here's a vital question for you to consider: If you died tonight, would you be ready for eternity? Now, many people know that it's all about having a simple faith in Jesus Christ. Nothing more, nothing less. But … do you have the sort of faith that Jesus talked about? To help you answer that question for sure, that's what our latest Life Application Booklet is all about: Three Things I Absolutely Must Do Before I Die. We would absolutely love to send you your very own FREE copy to help you make sure that you have the right answer, to the most important question of all.