The Fruit of Discipline
by Berni Dymet
Heb. 12:7-13 Endure trials for the sake of discipline. God is treating you as children; for what child is there whom a parent does not discipline? If you do not have that discipline in which all children share, then you are illegitimate and not his children. Moreover, we had human parents to discipline us, and we respected them. Should we not be even more willing to be subject to the Father of spirits and live? For they disciplined us for a short time as seemed best to them, but he disciplines us for our good, in order that we may share his holiness. Now, discipline always seems painful rather than pleasant at the time, but later it yields the peaceful fruit of righteousness to those who have been trained by it. Therefore lift your drooping hands and strengthen your weak knees, and make straight paths for your feet, so that what is lame may not be put out of joint, but rather be healed.
I remember as a child I was a lively sort of a lad.  Into everything and full of beans - it's just the way I'm wired.
So - it wouldn't surprise you that growing up I had more than my share of discipline and then as a teenager and a young adult. When I was studying at the Royal Military College Duntroon to become an officer in the Australian Army - that's where you learn what disciplines about and then in the workplace.
No - I can honestly say - there is not one single time that I've enjoyed being disciplined. But looking back on it - without that discipline - I think I would have grown up to be a horrid person; completely unbearable. 
Discipline's never fun at the time - but it's an important part of our lives. 
Maybe … maybe that's why God disciplines those whom He loves. No - it's never fun at the time. 
But imagine what you and I would be like if we hadn't been disciplined!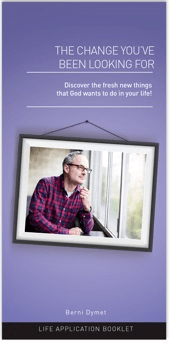 Your FREE eBooklet - "The Change You've Been Looking For"
So many people yearn for a better life, which is why "self-improvement" is a multi-billion dollar industry. But the truth is, it doesn't work, because the big changes, the truly important changes, are impossible to achieve on your own. That's why Jesus came. So if you want to lay hold of the "super-abundant" life that He promised (John 10:10) download this free eBooklet, because that's what it's all about. The change you've been looking for!