The Graph
by Berni Dymet
1 John 5:13 I write these things to you who believe in the name of the Son of God, so that you may know that you have eternal life.
The stock market's a funny thing. Shares go up and shares go down. And one of the things I've learned is the importance of graphs. If I focus just on the movement of a stock over the last day or even week - what I get is a short-term view. 
If I look at that same stock however graphed over 6 months, a year, even two - that gives me a whole different perspective. It takes me out of the short term - to give me the context - the big picture which is so vitally important in making any investment decision. 
I wonder whether in life, we don't spend most of our time on the short-term graphs. Reacting and dealing with the things happening right now. But when we stand back - take a longer-term view … you know what we see?
Life here on this earth is fleetingly short. And what really matters is the eternity that follows, because eternity is such a long time. And that is so important in making our life investment decisions.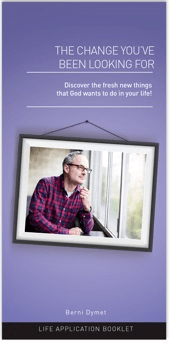 Your FREE eBooklet - "The Change You've Been Looking For"
So many people yearn for a better life, which is why "self-improvement" is a multi-billion dollar industry. But the truth is, it doesn't work, because the big changes, the truly important changes, are impossible to achieve on your own. That's why Jesus came. So if you want to lay hold of the "super-abundant" life that He promised (John 10:10) download this free eBooklet, because that's what it's all about. The change you've been looking for!