The Ukulele
by Berni Dymet
2 Cor. 5:17So if anyone is in Christ, there is a new creation: everything old has passed away; see, everything has become new!
The other day I drove past a music shop with musical instruments and stuff. And hanging in the front window was a brightly colored ukulele. 
And that ukulele triggered an instant flashback to when I was just a young boy – five, six. I was in a music store with some grown-ups. And there were some ukuleles their – and one of these adults said, "We should buy Berni a ukulele." Well, I was so excited. But no one bought me that ukulele. As a little child – I can tell you, that really hurt.
That's the memory that came flooding back.
Isn't funny how powerful the past can be. Those past hurts are triggered in just an instant. And for many people, the past destroys their present and it robs them of their future.
God's Word says that if we believe in Jesus – we're a new creation. Everything old has passed away – and all things are new.  
So – did God really mean that, or was it just … an idle thought?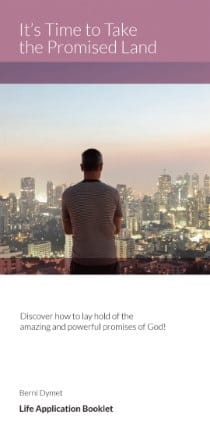 YOUR FREE BOOKLET – IT'S TIME TO TAKE THE PROMISED LAND
So many things in this world promise so much … and yet, so often, they fail to deliver. God's promises, on the other hand, never fail. Well … we know that in theory and yet, too many of those who believe in Jesus, somehow don't quite seem to manage to lay hold of God's promises in practice. How exactly do you live in the promises of God? Well, that's what our latest Life Application Booklet is all about: It's Time to Take the Promised Land.