The Signs
by Berni Dymet
>Luke 12:54-56 He also said to the crowds, "When you see a cloud rising in the west, you immediately say, 'It is going to rain'; and so it happens. And when you see the south wind blowing, you say, 'There will be scorching heat'; and it happens. You hypocrites! You know how to interpret the appearance of earth and sky, but why do you not know how to interpret the present time?
To get to the office I regularly catch the train from my station to Town Hall station on the underground. Problem is, it's so easy to get disoriented. Depending on which escalator you come up as to which direction you're facing. Can't tell you the number of times I've wandered right round this underground station, Town Hall, to find the stairs that'll take me up to our office. 
The other day – shock, surprise – I looked up and there are signs with arrows hanging off the ceiling. I've been doing this for years mind you – but I'd never noticed the signs.
I may not be very smart, but I can lift heavy things.
Sometimes, we miss the blindingly, glimpsingly obvious. Jesus said to people – you see the clouds and predict rain – but you can't even read the sign of the times.
He was the sign of the times. He still is. 
Son of God – right under our noses: but how many people walk straight past – and miss the blindingly, glimpsingly obvious.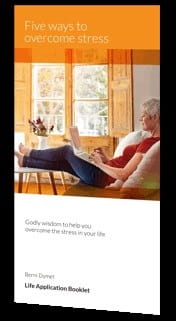 Your FREE eBooklet - "Five Ways to Overcome Stress"
The alleviation of stress is the number one felt need in society today. More than a half of all visits to the doctor are stress related. How about you? On a scale of zero to ten, how "stressed out" are you? There will always be pressures in life. That's a given. But stress is actually our response to those pressures and as such, it's something that, with God's help, we can overcome. That's what our latest Life Application Booklet is all about: Five Ways to Overcome Stress. We would absolutely love to send you your very own FREE copy to help you experience God's peace, in the middle of the pressures in your life.