The X-Ray
by Berni Dymet
1 Cor. 6:18-20 Shun fornication! Every sin that a person commits is outside the body; but the fornicator sins against the body itself. Or do you not know that your body is a temple of the Holy Spirit within you, which you have from God, and that you are not your own? For you were bought with a price; therefore glorify God in your body.
The other day, I was heading to our office and I walked past a man – I'm guessing in his late fifties, early sixties. He was holding one of those large envelopes from an X-Ray clinic, containing – obviously – X-Rays. 
Now, he was overweight, hugely overweight and he was smoking a cigarette. And I remember thinking to myself … now I'm no doctor, but the problem's pretty obvious to me. They can take as many X-Rays as they like and it's not going to make any difference. 
What we do with our bodies – matters. Lots of people kind of over-spiritualize the whole Christianity, faith thing.  Recognizing the spiritual dimension is good, but this guy – he was abusing his body and wondering why he was sick. This body of mine and your body is an amazing – utterly amazing thing. It's the only one we'll ever get on this earth.
God went to a lot of trouble in the design and manufacture. And my hunch is, he expects us to look after it.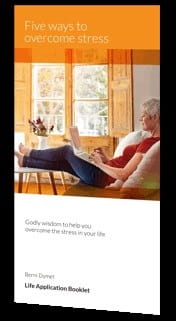 Your FREE eBooklet - "Five Ways to Overcome Stress"
The alleviation of stress is the number one felt need in society today. More than a half of all visits to the doctor are stress related. How about you? On a scale of zero to ten, how "stressed out" are you? There will always be pressures in life. That's a given. But stress is actually our response to those pressures and as such, it's something that, with God's help, we can overcome. That's what our latest Life Application Booklet is all about: Five Ways to Overcome Stress. We would absolutely love to send you your very own FREE copy to help you experience God's peace, in the middle of the pressures in your life.