Praying or Preaching
by Berni Dymet
Matt. 6:6 But whenever you pray, go into your room and shut the door and pray to your Father who is in secret; and your Father who sees in secret will reward you.
You know what I find fascinating. Jesus had His disciples with Him for about…three and a half years. They learned a lot in that time. He took the time to teach them. A lot.
And one of the things He taught them was how to pray. How to pray. Not how to preach. You'd have thought that preaching would be right up there on the list of priorities for this motley crew most of whom would go on to found this new thing called "the church."
Well, there's no record of Jesus actually teaching them how to preach, only how to pray. They said, "Lord, teach us how to pray". Now why? Why did they ask Him that?
Maybe they saw Jesus drawing away to pray over and over again. Perhaps they knew, deep in their hearts that His mighty prayer life had everything to do with the power that God unleashed on this earth through their Jesus.
"Lord," they said, "teach us how to pray."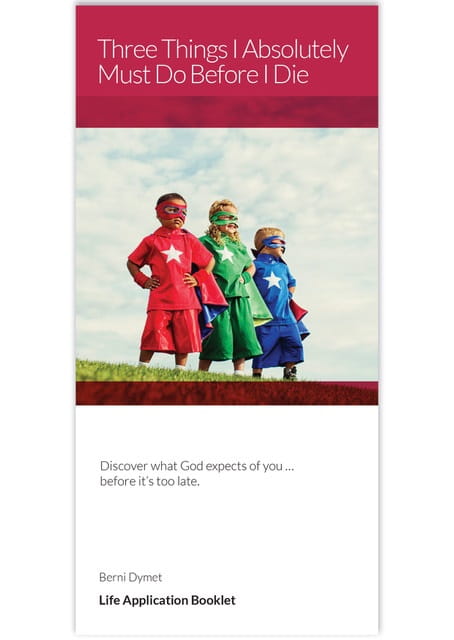 YOUR FREE BOOKLET – THREE THINGS I ABSOLUTELY MUST DO BEFORE I DIE
Here's a vital question for you to consider: If you died tonight, would you be ready for eternity? Now, many people know that it's all about having a simple faith in Jesus Christ. Nothing more, nothing less. But … do you have the sort of faith that Jesus talked about? To help you answer that question for sure, that's what our latest Life Application Booklet is all about: Three Things I Absolutely Must Do Before I Die. We would absolutely love to send you your very own FREE copy to help you make sure that you have the right answer, to the most important question of all.