Imago Dei
by Berni Dymet
Gen. 5:1 This is the list of the descendants of Adam. When God created humankind, he made them in the likeness of God.
People used to tell me that I walked like my father. "What does that mean?" I used to ask them. 
They'd just smile.
I remember the first time I saw myself on TV. It was a 20 minute interview. I was shocked. All my mannerisms, the way I moved and spoke and gestured - it was like looking at my Dad. 
I had no idea.
Those Christians would have us believe that we're made in the image of God. Theologians call it the Imago Dei.
"What does that mean?"
But the more I look at people - and you see how brilliant and creative and beautiful and surprising and different and delightful they are…..the more I come to the conclusion that - you know something, I think the Christians have it absolutely nailed. The Imago Dei is no hoax.
And my hunch is that when each of us looks in the mirror and sees ourselves the way God sees us….really…..well, my hunch is we'd whisper … "I had no idea".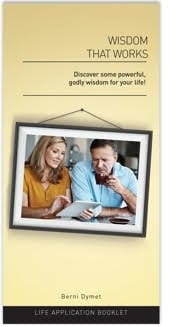 FREE Booklet - Wisdom that Works
Request your free copy of this latest Life Application Booklet from Berni Dymet, to help you grow in godly wisdom. The sort that helps you lay hold of the abundant life that Jesus came to give you. Don't miss out - available for a limited time only!