Dying and Living 
by Berni Dymet     
2 Cor. 5:17 So if anyone is in Christ, there is a new creation: everything old has passed away; see, everything has become new!
Easter's about dying and living. Jesus dying on the cross to pay for all the things I've done in rebelling against God and then rising again to give us a new life - and you.
So many people celebrate Easter - but they've never entered into the death and the resurrection. It's not complicated. Actually, the essence of it is very simple. God sent Jesus to pay for our sin - believe in that, and you're forgiven. 
That's where most people think it ends. Good - I believe I'm into heaven. But … believing and forgiveness is just the beginning. God wants a new life for us.
And that means going to the Cross with Jesus - dying to the old things. Dying to the things that constituted our rebellion against Him. And that hurts. 
And then He wants us to go through that empty tomb - to rise to a new life, a new self: Clean and pure and ready for a new life.
That's Easter. That's it.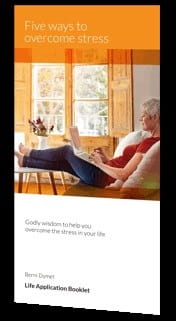 Your FREE eBooklet - "Five Ways to Overcome Stress"
The alleviation of stress is the number one felt need in society today. More than a half of all visits to the doctor are stress related. How about you? On a scale of zero to ten, how "stressed out" are you? There will always be pressures in life. That's a given. But stress is actually our response to those pressures and as such, it's something that, with God's help, we can overcome. That's what our latest Life Application Booklet is all about: Five Ways to Overcome Stress. We would absolutely love to send you your very own FREE copy to help you experience God's peace, in the middle of the pressures in your life.