The Global "Tiredness" Pandemic 
by Berni Dymet
Matt. 11:28-30 "Come to me, all you that are weary and are carrying heavy burdens, and I will give you rest. Take my yoke upon you, and learn from me; for I am gentle and humble in heart, and you will find rest for your souls. For my yoke is easy, and my burden is light."
You know - the more that I look around, the more I see people who are chronically tired and exhausted. One of the most common answers I get to the question - "So, how are you going?" - is "Well, things are so incredibly busy."
And so our health and wellbeing suffer, our relationships suffer - we suffer, our family suffers - all because we're tired. 
It's easy to imagine somehow that this is something new. But tiredness - that deep, exhausting kind of tiredness - is nothing new.  Back in the 1st century, Jesus said to people …
Come to me all you that are weary and are carrying heavy burdens and I will give you … rest.
These weren't people living in hectic, post-industrial always connected to technology age. These were people living in the agrarian age; subsistence farmers most of them.
Doesn't matter who we are, or where we come from - we all need rest. Deep rest: the sort of rest that Jesus was talking about.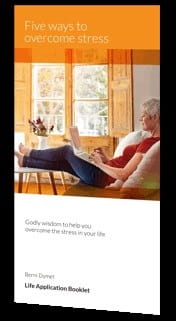 Your FREE eBooklet - "Five Ways to Overcome Stress"
The alleviation of stress is the number one felt need in society today. More than a half of all visits to the doctor are stress related. How about you? On a scale of zero to ten, how "stressed out" are you? There will always be pressures in life. That's a given. But stress is actually our response to those pressures and as such, it's something that, with God's help, we can overcome. That's what our latest Life Application Booklet is all about: Five Ways to Overcome Stress. We would absolutely love to send you your very own FREE copy to help you experience God's peace, in the middle of the pressures in your life.